Trump spars with Chelsea Clinton over Ivanka's G20 seat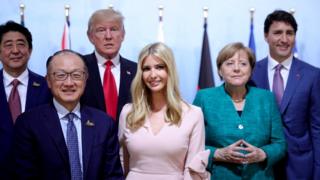 US President Donald Trump and former first daughter Chelsea Clinton have sparred over his decision to seat his daughter at a summit of world leaders.
Mr Trump tweeted that his decision to allow his daughter to take his seat at the meeting in Hamburg was "very standard".
He also said the media would have cheered "CHELSEA FOR PRES!" if Hillary Clinton had made the same choice.
Chelsea Clinton tweeted back that her parents would never have done so.
Ivanka Trump was criticised online after taking her father's seat between the British prime minister and the Chinese president at the G20 summit in Germany on Saturday as her father sat for a one-on-one meeting with the Indonesian president.
The US president tweeted on Monday morning: "I asked Ivanka to hold seat. Very standard.
"Angela M agrees!" he added, referring to German Chancellor Angela Merkel.
In a follow-up tweet he wrote: "If Chelsea Clinton were asked to hold the seat for her mother, as her mother gave our country away, the Fake News would say CHELSEA FOR PRES!"
Chelsea Clinton, who was 12-years-old when her father Bill Clinton was sworn in as US president, responded to say: "Good morning Mr President.
"It would never have occurred to my mother or my father to ask me. Were you giving our country away? Hoping not."
White House spokesperson Sarah Huckabee Sanders said Mr Trump's tweet was not about attacking the Clintons, but rather "this was about responding to an outrageous attack against a White House senior adviser".
"If she didn't have the last name that she has I think that she would be constantly celebrated instead of constantly attacked" she added, saying that "I think we should be proud" of Ms Trump.
The younger Clinton has become a frequent social media critic of Mr Trump and his administration's policies ever since her mother's failed 2016 presidential campaign.
Last month Mr Trump sent out a series of tweets accusing the Clinton family of having inappropriate ties with Russia.
Days later Chelsea Clinton, 37, accused White House chief strategist Steve Bannon of "fat-shaming" press secretary Sean Spicer.
She and Mr Trump's first daughter, Ivanka, have said they are "very good friends" despite their family's political rivalry.