Skateboarders and police clash in San Francisco's Dolores Park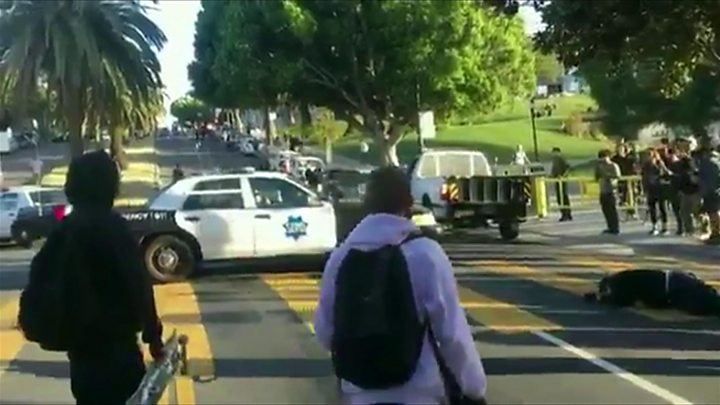 Skateboarders and police have clashed in the US city of San Francisco during an informal "hill bombing" competition, reports say.
Footage show a skateboarder and an officer colliding, sending the skateboarder flying into a police car.
Skateboarders threw bottles at police in riot gear but no arrests were made, the LA Times said.
Two skateboarders and the police officer were taken to hospital, a police spokeswoman said.
There were no details about their condition.
A crowd of several hundred people had gathered to watch the skateboarders descend a steep hill in Dolores Park in the city's Mission district.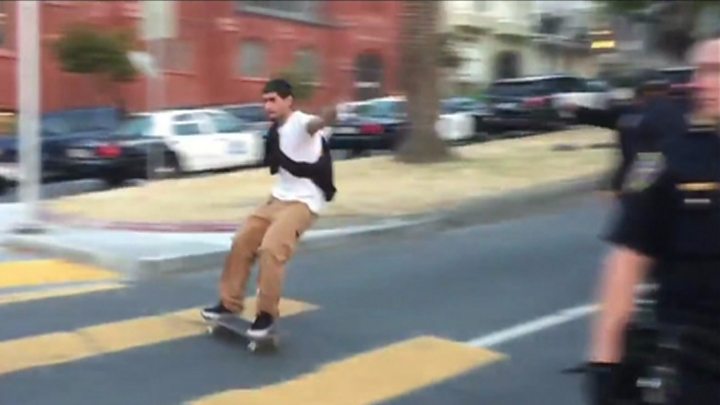 Some reports say the emergency services were called when a skateboarder fell at speed but others say residents were complaining that their street had been taken over.
After police arrived, witnesses said an officer intentionally leaned in to clip a speeding skateboarder with his shoulder, sparking anger among onlookers.
However the San Francisco Chronicle quoted a police officer as saying the collision had been an accident.
The confrontation lasted at least an hour. A police vehicle had a window broken and two vehicles were tagged with graffiti during the stand-off, a spokeswoman said.