Delta hits back against conservative author Ann Coulter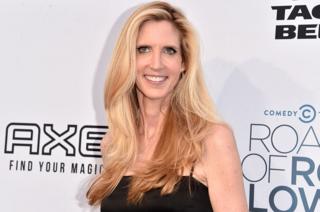 Delta Air Lines has responded to the "derogatory" tirade that conservative author Ann Coulter directed at them throughout the weekend.
The right-wing pundit's ire began after she was moved from her pre-booked seat on a flight from New York to Florida.
After landing on Saturday she began to rant to her 1.6m Twitter followers, eventually comparing Delta to fascists.
"Delta expects mutual civility throughout the entire travel experience," the airline hit back.
"We are sorry that the customer did not receive the seat she reserved and paid for," Delta said in a statement posted to its website.
"More importantly, we are disappointed that the customer has chosen to publicly attack our employees and other customers by posting derogatory and slanderous comments and photos in social media."
"Her actions are unnecessary and unacceptable", continued the statement which was posted on Sunday - more than 24 hours after Ms Coulter's onslaught began.
Ms Coulter's more than 30 tweets include insults to the passengers, flight crew, Wifi, and corporate employees.
"So glad I took time investigate the aircraft & PRE-BOOK a specific seat on @Delta, so some woman could waltz at the last min & take my seat," she wrote, returning to Twitter the next morning to mockingly say the company's motto is "How can we make your flight more uncomfortable?".
The pundit also posted photos of the flight attendant and the woman seated in her original seat, whom she referred to as "dachshund-legged".
Delta said that the incident happened during boarding, when staff "inadvertently" moved the author - whose works include In Trump We Trust and Adios America! - to a window seat from an aisle.
The company statement added that they tried to contact Ms Coulter in order to apologise and refund her the $30 (£23) cost that she paid to pre-book the seat, but did not hear back from her until Sunday night.
They add that after some initial confusion sparked by passengers asking to change seats, Ms Coulter was eventually able to take her place at the seat listed on her ticket.
But Ms Coulter insisted on Monday that the money was never the issue, saying "30!. It cost me $10,000 of my time to pre-select the seat I wanted, investigate type of plane & go back periodically to review seat options".
Many liberal-leaning Twitter users took pleasure in Ms Coulter's incident.