Is Trump courting disaster with Sessions feud?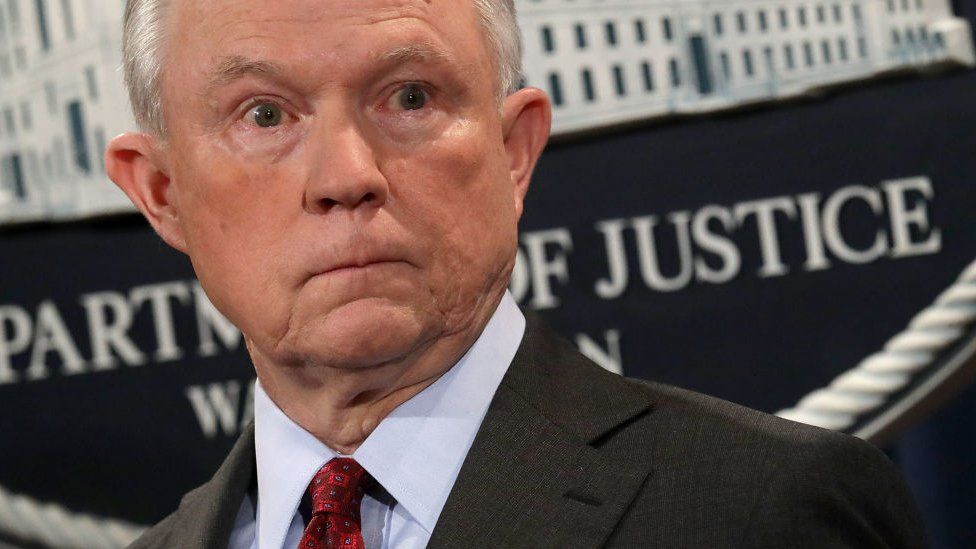 Donald Trump apparently subscribes to the Bill Lumbergh school of management.
In the film Office Space, Lumbergh was the obnoxious boss who, rather than fire a troublesome employee, made life increasingly uncomfortable for him in the hopes that he would quit on his own.
Lumbergh took away his precious stapler and moved his desk across the office, then down to a dark storage room. He eventually stopped paying him, without ever telling him he was terminated.
Jeff Sessions, Mr Trump's attorney general, is travelling down a similar path.
Over the course of the past few months, the president has slowly ratcheted up the pressure on his former adviser and campaign confidant.
First there were anonymous reports that Mr Trump was dissatisfied with Mr Sessions' decision to recuse himself from the ongoing Russia investigation. Then the president straight-up told the New York Times he wouldn't have picked Mr Sessions for the key cabinet spot if he had known such a recusal was in the cards.
Next came a flurry of tweets. Mr Sessions was "beleaguered". He was "very weak". Why wasn't he investigating Mr Trump's erstwhile opponent, Hillary Clinton? Why wasn't he digging into reports that a Democratic operative met Ukrainian government officials during the campaign? Why wasn't he cracking down on intelligence agency leaks that were bedevilling the Trump administration?
Mr Trump downplayed the significance Mr Sessions' early endorsement of his candidacy in a Wall Street Journal interview and, ominously, told the White House press corps "we'll see what happens" and "time will tell" when asked if he planned to fire his attorney general.
The stage is set for a dramatic showdown between the president and his top law officer, the likes of which Washington hasn't seen since the days of Richard Nixon and the Watergate scandal. And as with that dark moment in US history, the current standoff could send lasting shockwaves through US politics.
The holes in Trump's case
Before we get to the effects of Mr Trump's actions, it's worth noting the problems with many of the accusations the president is levelling toward his attorney general.
In a series of tweets he has faulted Mr Sessions for not investigating Mrs Clinton. Shortly after his election in November, however, Mr Trump said in a New York Times interview he had changed his mind about prosecuting Mrs Clinton for alleged crimes committed while she was secretary of state.
"I don't want to hurt the Clintons," he said, noting that he wanted to move beyond the divisiveness of the recently concluded presidential campaign. "It's time to go in a different direction."
Mr Trump has dinged Mr Sessions for not telling him that he might recuse himself from the ongoing Justice Department investigation in Russian meddling in the 2016 presidential election.
That inquiry - and the fact that it involved the Trump campaign - did not become public knowledge, however, until then-FBI Director James Comey revealed its existence in congressional testimony on 20 March - 40 days after Mr Sessions was confirmed as attorney general.
While Mr Sessions said during his confirmation hearings that he would seek legal counsel to avoid any conflict of interest in hypothetical investigations of the Trump campaign, the prospects of recusal were slim at that point and nothing that Mr Sessions could have told Mr Trump about with any certainty.
In the days after Mr Sessions announced his recusal, as Mr Trump grew increasingly frustrated, the attorney general reportedly offered to resign. The president stuck with his attorney general, however, raising the question of what has changed since then.
Could it be that independent counsel Robert Mueller has added an assortment of veteran prosecutors and investigators to his team and reportedly is expanding his inquiry to include Mr Trump's business dealings (and, notably, his tax returns)? Is it that those close to the president and his campaign are now testifying before congressional committees about their possible Russia ties?
Son-in-law Jared Kushner has already trekked to Capitol Hill twice, former campaign chair Paul Manafort has spoken with Senate investigators once, and Donald Trump Jr seems destined for an appearance as well.
As the investigations advance, the president continues his attacks on any- and everyone connected to the inquiries - Mr Sessions, Deputy Attorney General Rod Rosenstein, former FBI Director Comey, acting FBI Director Andrew McCabe, independent counsel Mueller and House Intelligence Committee Democrat Adam Schiff.
The swipes at Mr Sessions, however, could cause the president the most long-term grief.
An administration on edge
Inside the White House and across the executive branch, a chilling thought is spreading.
Mr Sessions stuck his neck out to endorse Mr Trump's candidacy before anyone else of national significance. He served as a close adviser during the campaign and a fierce advocate, taking to the airwaves and appearing in spin rooms to defend Mr Trump through all the various controversies and conflagrations.
If the Alabaman could end up on the president's chopping block, is anyone safe?
Already there is talk that chief of staff Reince Priebus is on thin ice. Press Secretary Sean Spicer is already out, as is one of his deputies. Several former Sessions aides have prominent positions within the Trump White House. Over at the State Department, Secretary Rex Tillerson has taken a "few days off", according to a press spokesperson, amid reports that he is growing increasingly frustrated in his job.
It's an exceeding unusual position for an administration to find itself in, just six months into its four-year term.
Mr Sessions served as a senator from Alabama for 20 years prior to taking the job to head Mr Trump's Justice Department, and he still has many friends in the chamber. As the president has ramped up his criticism of the attorney general, many in Congress - on both sides of the aisle - have voiced their disapproval.
More than that, Democrats have publicly and Republicans have quietly let it be known that if Mr Trump were to fire Mr Sessions, it would be extremely difficult for the Senate to confirm whomever the president chooses as a successor. That would leave Mr Rosenstein, who appointed independent counsel Mueller, in charge of the Justice Department. That's probably not an optimal outcome in the president's mind.
Getting crosswise with Senate Republicans at this point may not be the best strategy for the president, as his healthcare reforms hang by a thread in that chamber and other items - like tax reform and federal budgeting - lurk on the horizon.
Time and time again Republicans in Congress have groused about presidential "distractions" that get in the way of their efforts to advance their legislative agenda. Unceremoniously kicking one of their own to the curb would certainly qualify.
Mr Sessions was an outspoken advocate for the kind of immigration and border security reforms Mr Trump embraced long before the New Yorker threw his hat into the presidential ring. He's well liked by the portion of conservatives who have formed the bedrock of Mr Trump's support.
With this ongoing feud Mr Trump threatens to open a fissure in that base. The conservative website Breitbart News, which embraced Mr Trump during the campaign, has also been closely allied with Mr Sessions - and in recent articles appears to be siding with the attorney general. It ran stories touting Mr Sessions' Justice Department success, defending the importance of the then-senator's endorsement of Mr Trump and charging the president with "hypocrisy" in his attacks.
"Jeff Sessions: A man who embodies the movement that elected Donald Trump president," trumpets one headline.
The Drudge Report, which can be a reliable barometer of conservative grassroots sentiment, described the divide between Mr Sessions and the president as a sign of a "growing civil war" among the Republican Party.
Despite all this, the president seems unwilling - or unable - to ease off his attacks on the attorney general. As the New York Times notes, the conventional wisdom at this point is that it's only a matter of time before Mr Sessions relents - even if it means acknowledging that he gave up a secure Senate seat for a six-month tenure as a presidential punching bag.
Mr Sessions' exit would probably be just the beginning of this story, however, not the end. Cut loose from the administration, there's no telling what he might say or do.
That employee who was the target of Lumbergh's schemes? At the end of the film, he sets the office building on fire.