Drawing by President Trump sells for nearly $30,000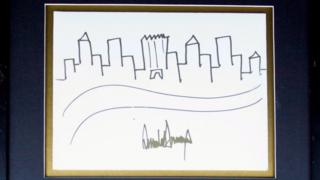 A drawing by US President Donald Trump has sold at auction for $29,184 (£22,000).
It depicts the Manhattan skyline, with Trump Tower prominent.
It was originally drawn for a charity auction in 2005 but the winner later passed it on to the LA-based Nate D Sanders auction house.
Auctioneer Michael Kirk told journalists from artnews.com that the drawing had received five times more interest than the firm was used to.
"It's attracted interest from not just Trump followers, but also presidential memorabilia collectors," he said.
There were 11 bids for the drawing, starting at $9,000.
Other Trump memorabilia sold in the past includes a Ferrari, a set of golf clubs, and a bottle of whisky signed by him.