Saskatchewan Premier Brad Wall retiring from Canadian politics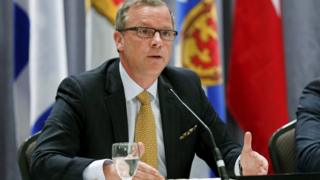 Saskatchewan Premier Brad Wall says he will retire from Canadian politics after a decade in office.
The right-of-centre politician enjoyed a popular following and was leader of the Saskatchewan Party for 14 years.
But a struggling local economy had eroded some goodwill, and on Thursday Mr Wall said he would retire as soon as a new party leader is chosen.
A proponent of small government, he frequently butted heads with Prime Minister Justin Trudeau.
"Together with [my wife] Tami, I have decided that now is the time for renewal - for my party, for the government, for the province. It's time for me to retire from politics," he said in a video posted on Facebook.
Mr Wall was often cited as one of the most popular premiers in the country. But after introducing an austerity budget for the 2017-2018 fiscal year, Mr Wall took a dive in the polls.
The budget increased provincial taxes, cut social programmes, public servants' salaries and even cancelled bus service in order to chip away at a C$1.3b ($1b, £800m) deficit caused by the weakening price of oil.
In his retirement announcement, Mr Wall reiterated that during his tenure, provincial population grew by 160,000 and 67,000 jobs were added to the economy.
Mr Wall was an ardent opponent of carbon taxes, which frequently pitted him against Mr Trudeau, who has promised to dramatically cut carbon emissions.
In January, he had to apologise after he retweeted a profane tweet attacking the prime minister.
He also went toe to toe with the federal government on healthcare funding and has voiced concerns about the government's plan to legalise marijuana.