Trump: Stop terrorism by 'whatever means' necessary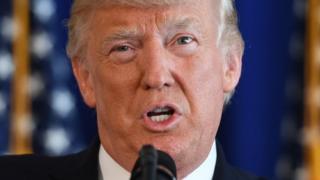 Radical Islamic terrorism "must be stopped by whatever means necessary", US President Donald Trump has tweeted in the wake of attacks in Barcelona.
The president also called on US courts to "give us back our protective rights" in order to be tough on terrorism.
It comes a day after Mr Trump urged people to look into a debunked myth about a general who fought Islamist militants by using pig's blood.
Twin terrorist attacks left 14 people dead in Spain on Thursday.
American killed in Barcelona terror attack
A driver rammed a car into crowds in Barcelona's tourist district, Las Ramblas, killing 13 people and injuring dozens.
Hours later, police killed five terror suspects in a second vehicle attack in the town of Cambrils.
A woman injured in the attack later died.
Police said the men killed in Cambrils were linked to the Barcelona attack, which the Islamic State group said it had carried out.
In Friday's tweets, Mr Trump lambasted "Obstructionist Democrats" for hindering his security plans, which appeared to refer to legal efforts to block his travel ban in US courts.
On Thursday, Mr Trump condemned the attack in Spain before he urged his Twitter followers to look into General John Pershing's actions during the US war in the Philippines in the early 1900s.
According to the debunked myth, the US commander rounded up 50 terrorists and ordered his men to shoot 49 of them, using bullets dipped in pig's blood. Pigs are considered ritually unclean in Islam. It is claimed the survivor was told to go back and tell his people what happened.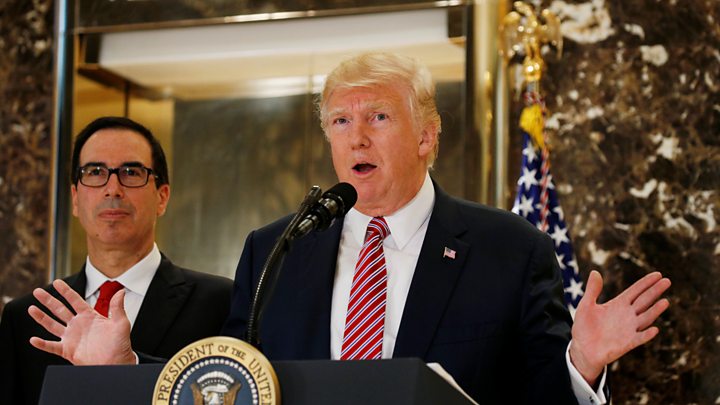 However, historians and fact checkers say there is no truth to the story.
Mr Trump has faced sharp criticism for his inconsistent response to terrorist attacks and hate crimes.
Earlier this week, he declined to label the clashes in Charlottesville, Virginia, a terror attack after the Justice Department announced it was investigating it as an act of terror.
A driver there barrelled a car into a group of counter-protesters at a far-right rally, organised by white supremacists and neo-Nazis, killing a woman and injuring 19 others.
The president said "all sides" were to blame for her death and the violence.