Ukraine forces declare truce for new school year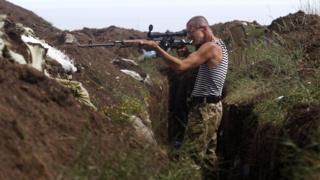 Forces fighting in eastern Ukraine have committed to a ceasefire before the start of the new school year, say international monitors.
The truce will take hold at midnight on Friday, OSCE representative Ambassador Martin Sajdik said.
Shelling has previously marred the 1 September return to school for children - an occasion that is widely celebrated in Ukraine.
However, past ceasefires have failed to bring about a prevailing peace.
The OSCE said that the group representing Ukraine, Russia and its own monitors in the conflict-torn Donbass region "reiterate their full commitment to permanent ceasefire on the occasion of the beginning of the school year, from midnight on 25 August 2017".
It follows a phone call between the "Normandy Four" - Russia, Ukraine, France and Germany - late on Tuesday where leaders "decisively" supported such a move, said the Kremlin in a statement.
"The leaders expressed their hope that this truce will lead to a constantly improving situation in terms of safety for schoolchildren and all the civilians of the Donbass," it said.
But violence has frequently marred previous declared ceasefires. In 2014, four people died when a shell landed in a playground in Donetsk as new pupils arrived carrying flowers.
A count by the AFP news agency, 34 Ukrainian soldiers have been killed in clashes with pro-Russian rebels since a truce was agreed on 24 June in eastern Ukraine.
The UN says more than 10,000 people have died since the eastern Ukraine conflict erupted in April 2014, soon after Russia annexed Ukraine's Crimea peninsula. The fighting has displaced more than 1.6 million people.
A ceasefire was agreed in Minsk in February 2015, but its terms are far from being fulfilled.