Was treasury secretary trip on official plane for eclipse?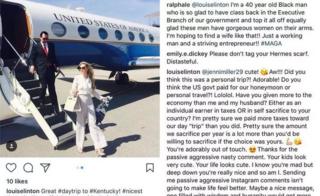 A watchdog group suspects an official trip by the US treasury secretary may have been planned around the solar eclipse.
The US-funded flight to Kentucky drew scrutiny after Steven Mnuchin's wife posted a photo online of the couple exiting a US military plane.
Louise Linton's now-private post added hashtags for fashion designers, and a rant at a woman who criticised her.
The watchdog is demanding records to determine the nature of the trip.
The US Department of Treasury told the BBC the trip was an official matter.
The Citizens for Responsibly and Ethics in Washington (Crew) filed a freedom of information request after the Scottish-born actress's Instagram post made headlines in the US.
"The trip set off a public firestorm," Crew writes in the court filing.
It said that Ms Linton "snapped back" at a commenter in the post, "and defended her lavish lifestyle and the government-paid trip".
The request for records "would shed light on the justification for Secretary Mnuchin's use of a government plane, rather than a commercial flight, for a trip that seems to have been planned around the solar eclipse and to enable the Secretary to secure a viewpoint in the path of the eclipse's totality".
During Mr Mnuchin's visit, he gave remarks alongside Senate Majority Leader Mitch McConnell at a local event and visited Fort Knox, which stores nearly $200bn in US gold reserves.
According to Mr McConnell, he and Mr Mnuchin viewed the astronomical event from the top of the US Army post.
The Senate leader posted a photo of them holding eclipse glasses.
It included the comment: "Secretary Steven Mnuchin and I in front of the main door to the United States Bullion Depository at Fort Knox before we viewed the #solareclipse from the rooftop today."
A spokesperson for the US Department of Treasury said: "Secretary Mnuchin is reimbursing the government for Mrs Linton's travel, as is longstanding policy regarding civilians on military aircraft.
"The trip was originally planned for earlier in August but was postponed to accommodate the Congressional calendar."
In what critics have suggested could be a government ethics violation, Ms Linton's post tagged various fashion designers on the image of her and her spouse exiting the blue plane with United States of America emblazoned on the fuselage.
"Glad we could pay for your little getaway," commented @jennimiller29, who is reportedly a mother-of-three from Portland, Oregon.
"Did you think this was a personal trip?!" Linton wrote back, adding: "Have you given more to the economy than me and my husband?"
The little-known actress later apologised through a publicist, saying "it was inappropriate and highly insensitive".