Canadian Senator Mike Duffy sues Senate and Mounties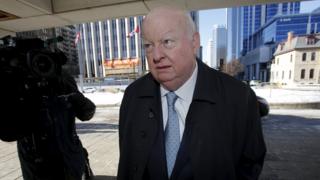 A Canadian senator is suing the Senate and the Royal Canadian Mounted Police (RCMP) for C$8m ($6.4m; £5m).
Senator Mike Duffy's lawyer said his client suffered "physically, emotionally and psychologically" during a long legal battle related to his expense claims.
Mr Duffy was suspended from the Senate without pay in November 2013.
The RCMP eventually laid 31 criminal charges against the senator. He was exonerated on all counts in April 2016.
In the claim filed in Ontario Superior Court on Thursday, Mr Duffy alleges the Senate unconstitutionally withheld his salary during his suspension and then failed to reimburse him upon his return.
"We have somebody who's been through the public grinder and been through the criminal courts and despite all of that the Senate still refuses to try to make this man whole," said lawyer Edward Greenspon.
Mr Duffy also alleges the RCMP is liable for negligent investigation and claims the force lacked reasonable grounds to charge him and failed to obtain any evidence of criminal activity.
In dismissing all the charges against Mr Duffy in 2016, a judge said the Crown failed to make a case for fraud, breach of trust or bribery and that his expenses fell within Senate criteria.
In a statement, Mr Duffy said that the lawsuit "is as much about the future as it is about the past".
"My civil action raises questions which go to the heart of our democracy," he said.
The senator is seeking $6.5m in general damages, $300,000 in loss of income and benefits, $1m in punitive damages, and an undefined amount for special damages.
Neither the Senate nor the RCMP would comment on a matter before the courts.
The Senate has consistently maintained its actions against Mr Duffy were separate from any criminal charges he faced.
Mr Duffy, who represents the province of Prince Edward Island in the Senate, was appointed in 2009 by former Canadian Prime Minister Stephen Harper.