Grieving mum thankful for stranger's kindness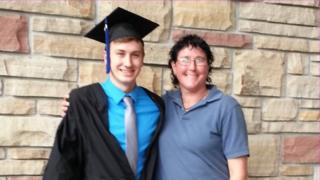 A grieving US mother has thanked the stranger whose kind note brought her to tears.
Tricia Belstra was flying to Chicago en route to Indiana to bury her son, Kyle, who died on 12 August aged 25.
Visibly upset on the plane, she was handed a note from a stranger when her flight landed.
A Facebook post expressing gratitude to the unknown man, including pictures of the note, has been shared thousands of times on social media.
Tricia was at home in Colorado when she received the heart-wrenching news of Kyle's unexpected death.
"It was the worst day," Tricia told the BBC.
"That whole week I was devastatingly ill and distraught."
Together with her daughter and other family members, she set off for South Bend, Indiana, to bury her son.
"I was not looking or feeling good," Tricia wrote on Facebook.
"I sat in my seat between two strangers holding a barf bag down low between my legs.
"[The flight attendant] leaned in and asked if I was okay. I told him I was flying back to bury my son."
Kyle's funeral was scheduled for the following day. A passenger sat next to Tricia offered to pour her drink as her hands were shaking so much.
Once the flight had landed, the flight attendant handed Tricia a note. Tricia thanked him and disembarked.
"When I got to where I was out of the walkway, I looked at the napkin he gave me and cried," Tricia said.
---
Read the note
"In 2004, my family lost my older brother. As traumatic as it still is for me, I can't even pretend to know the pain you feel as a mother. I did, however, watch my mother's grieving process (a process that will never end).
"Firstly, being a mother is about giving birth to new life as a promise to the future. Your mission doesn't end now - your son's life is bigger than his death and always will be.
"My mom struggled desperately chasing a far away goal of somehow lessening the pain. As she has realised now, the pain hardly lessens. Don't expend your energy trying to chase this. Instead, go all out finding opportunities to experience joy. Visit family, get closer to those you've lost touch with, travel.
"This is your story and you owe it to yourself and your son to make sure that you survive this. Do not pressure yourself.
"This world is full of people who do truly care about you, even if it doesn't feel that way. I won't stop thinking about you anytime soon or how you're doing or what you're up to.
"You'll come out of this a stronger person and I'll be rooting for you the whole time."
---
You may also like:
"During my son's funeral I handed the note to the priest," Tricia told the BBC.
"He told me the flight attendant was one of God's soul angels. I had it laminated because I didn't want anything to happen to it."
Tricia hopes that her thanks will find their way to the man who wrote the note.
"It was so heart-warming and amazing that this young man took the time to write this for a perfect stranger," she said.
"I want to thank him so much. It might have been a small gesture but it meant everything to me. I appreciate everything he did."
By Chris Bell, UGC and Social News team