San Francisco rally is cancelled by right-wing group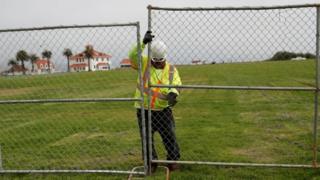 A "free speech" rally due to be held by right-wing groups in the city of San Francisco on Saturday has been cancelled by its organisers, citing security fears.
The group Patriot Prayer said it would instead hold a press conference on Saturday at a location outside the protected zone set up by police.
A permit for the rally was granted earlier this week.
A counter-march is still due to take place on Saturday.
San Francisco mayor Ed Lee had opposed the "free speech" rally, but he said its location - Crissy Field - was federal land and therefore was not within his jurisdiction.
Patriot Prayer is considered to be connected with the alt-right and other far-right groups, but the group insists its message is unity and freedom of speech.
Organisers quoted by SFGate said that they had decided to cancel the event because of fears it could turn violent and because speakers and bands due to perform at the gathering had been "harassed".
A "No Marxism in America" protest - planned for Sunday - is still due to go ahead in the ultraliberal bastion of Berkeley.
Critics had warned that both events would promote hate, which organisers denied.
Organisers of the two demonstrations insisted that the Ku Klux Klan, neo-Nazis and white supremacists would not be welcome.
Local politicians depicted Saturday's Patriot Prayer protest as an extremist gathering.
Critics pointed to plans for the far-right Oath Keepers to provide armed security.
House Minority Leader Nancy Pelosi - who represents San Francisco - said before the cancellation that it would be a "white supremacist rally in the middle of a park for families and children".
But Patriot Prayer founder Joey Gibson said in a video message posted on the group's Facebook page that it was "absolutely not" white supremacist.
Mr Gibson pointed out that he is himself mixed race and that all he had been trying to do was to promote freedom, love, peace and free speech.
The Southern Poverty Law Center, which tracks hate groups, does not classify Patriot Prayer in those terms.
It noted that Mr Gibson denounced white supremacists and neo-Nazis at a rally in Seattle this month.
San Francisco Mayor Ed Lee lobbied the National Park Service to ban Patriot Prayer from gathering at Crissy Field, a public park near the Golden Gate Bridge.
But the permit was granted on Wednesday.
Other right-wing protesters meanwhile have insisted that their "No to Marxism" event on Sunday will take place near the University of California at Berkeley.
The college has been a flashpoint between right and left radicals since the election of US President Donald Trump.