Air Transat probed after flights delayed for hours on Ottawa runway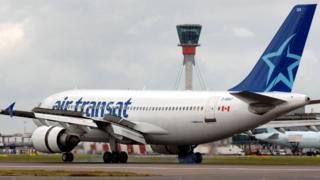 The Canadian Transportation Agency is holding an inquiry into two Air Transat flights held on the tarmac at Ottawa for hours in conditions passengers called "deplorable".
The flights from Brussels and Rome were diverted on 31 July amid bad weather in Montreal and Toronto.
Passengers said they were stranded for up to six hours without adequate air conditioning, food or water.
Travellers on one flight eventually rang emergency services.
The two international flights were among 20 diverted to Ottawa from Montreal and Toronto.
Air Transat said that numerous factors beyond its control, including long waits for fuel, had resulted in its inability to reduce the delay and allow passengers to disembark safely.
Flight staff said food and water were running low but that refreshments were available and temperatures seemed acceptable.
But travellers who gave statements or testified before the inquiry painted a very different picture, with some describing a growing frustration and panic fuelled by poor communication from airline staff.
More than one passenger testified during the public hearings that they felt they were seen simply as "luggage".
In a statement to the panel, passengers Alan and Patricia Abraham, of Flight 507 from Rome, said they were initially told the delay in Ottawa would be just 45 minutes to refuel.
The plane ended up held for five hours.
The couple said they were stranded in the stuffy plane, were given a small meal and only once offered a small glass of water.
"The bathroom had run out of toilet paper. One young boy became nauseous and was trying to make his way to the bathroom when he vomited in the aisle and all over several passengers two rows behind us," they said. "The stench was unbearable."
Pilot Yves St-Laurent testified before the CTA panel that the tarmac delay seemed like "the lesser evil" compared to the logistics of getting passengers off the aircraft and sending them through customs, and then arranging transport and accommodation for them.
Pilots have the final say on whether to unload a plane.
He said he did not consider disembarking the aircraft as he was consistently told it would be refuelled in short order.
"If we had known that the delay would be longer than three hours, the decisions would have been very different," Mr St-Laurent said, adding that the air conditioning stopped working only for a minute or two.
People on board Flight 157 from Brussels to Montreal were experiencing similar conditions to Flight 507. They ended up being stranded for six hours.
At one point passengers chanted "open the door, open the door" to cabin crew. The cabin temperature reached more than 31C (87F).
Pilot Denis Lussier also said he was told his plane would be quickly refuelled.
He added that his flight was short on fuel when it landed and that the air conditioning was cut off when the power shut off.
Passengers eventually rang the emergency services to complain of the heat and inability to disembark, and emergency responders came to their assistance and handed out water.
Several of the passengers shared their ordeal on social media while inside the planes.
Both pilots said they had not received any calls from passengers to get off in Ottawa.
Airline CEO Jean-Francois Lemay said on Thursday that "something did not work well, obviously" on 31 July.
"I am not saying there is a fault or blame but there is a collective responsibility that has to be observed in these events."
Christophe Hennebelle, vice president of corporate affairs, said other planes also suffered significant delays, but that Air Transat was being singled out because of the media attention over the call to emergency services.