Canada cycle police arrest top US suspect in Montreal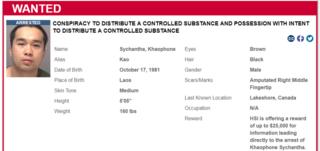 Canadian police patrolling on bicycles apprehended a man for drug possession only to discover he was one of the most wanted suspects in the US.
Police say Katay-Khaophone Sychantha was detained during a routine patrol on a Montreal cycle path.
His identity was discovered back at a police station where officers noticed a telltale amputated fingertip.
The alleged drugs-trafficker is on the US Department of Homeland Security's list of 10 most wanted suspects.
He has a $25,000 (£19,000) reward on his head and is also wanted by Ontario police for alleged drugs offences.
In a statement, Montreal police said Mr Sychantha and another man were approached by officers on cycle patrol who suspected they had drugs.
He tried to flee, a statement said, but officers gave chase and he was caught. He is alleged to have produced a fake US identification card.
Facing extradition
He was fingerprinted at a police station in the St-Laurent area. Officers also noticed the amputated fingertip which the US Department of Homeland Security lists as a distinguishing feature for the wanted man.
He appeared in a Montreal court on Thursday and was charged with drug possession, trying to mislead a police officer and carrying fake identification, the Montreal Gazette reported.
It is expected he will be handed over to Ontario police and also faces possible extradition to the US, it added.
According to US Immigration and Customs Enforcement (ICE), Laos-born Katay-Khaophone Sychantha, 35, was first indicted in Michigan in 2005 for conspiracy to distribute a controlled substance.
"Following this indictment, Sychantha evaded capture and continued to supervise a drug smuggling organisation based in the Windsor, Canada area," ICE, a branch of US Homeland Security, said on its website.
It said he had a history of violence and has allegedly "made threats against HSI [Homeland Security Investigations] special agents and other law enforcement officials".
The notice says he should be considered armed and dangerous.