Residents of flooded care home safe and dry after rescue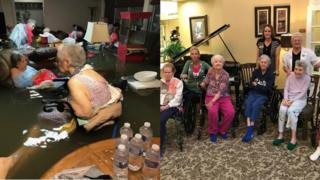 Residents of a flood-hit care home in Texas have been evacuated after an image of them sitting in waist-deep water was widely shared on social media.
Kim and Timothy McIntosh, daughter and son-in-law of the care home owner, posted the photograph on Twitter.
Fifteen elderly residents were moved from the La Vita Bella care home to a new nursing home in Alvin, Texas.
Once dry, residents posed for another photo showing them to be safe.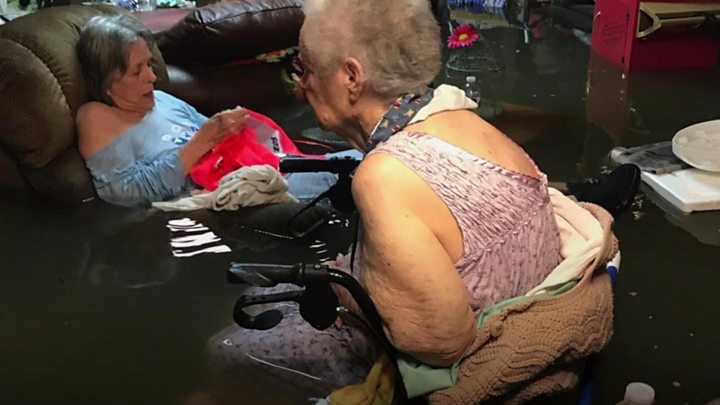 The original image showing elderly residents, and their cat, stuck in rapidly rising floodwater was widely shared on social media in an attempt to bring the situation to the attention of the emergency services.
Speaking to the BBC, Kim McIntosh said they tweeted the photograph in a bid to "get as much attention as possible to get them help."
Twitter-users were quick to respond, spreading the message online, and within a few hours the residents were rescued.
---
You may also like:
---
David Popoff, Galveston County Emergency Management Co-ordinator, confirmed the rescue operation to the Galverston County Daily News.
Timothy McIntosh thanked Twitter users for sharing the photograph, and the emergency services for rescuing the residents.
The new care home, some 15 miles (24km) from their previous residence, told CBS News that everyone was in good spirits.
However, social media users displayed concern for one resident from the original image who was missing from the second - the La Vita Bella cat.
In another happy ending for the residents of La Vita Bella, Bozo the cat is also safe and well.
By George Pierpoint, UGC and Social News team