Houston flood: Veteran police officer dies in flood waters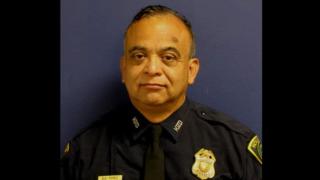 A Houston police officer has died after he became trapped in flood waters whilst trying to get to work, the city police chief has said.
Police Chief Art Acevedo said Sergeant Steve Perez, 60, drowned when his vehicle entered high waters as he drove to work on Sunday.
"Once our dive team got there it was too treacherous to go under and look for him", he said.
Record rainfall over the past few days has caused huge floods in Houston.
Chief Acevedo said Perez' family urged him not to leave the house but the officer told them, "We have work to do."
"As much as we wanted to recover him last night, we could not put more officers at risk, for what we knew in our hearts was going to be a recovery mission.", he said.
Sergeant Perez was a 34-year veteran of the Houston Police Department.
In a statement released on Twitter, the police force said: "Sergeant Perez was bravely serving the City of Houston in the face of this unprecedented weather-related disaster.
"Words cannot adequately express the sense of loss the Perez family and their extended Houston Police family are experiencing.
"We ask that everyone keep him and his family in their thoughts and prayers."
Unprecedented flooding has forced thousands of people to evacuate their homes, particularly in the Houston area where two dams are overflowing.
Rescuers are still trying to reach others that remain stranded.