Houston floods: Human chain 'was people coming together'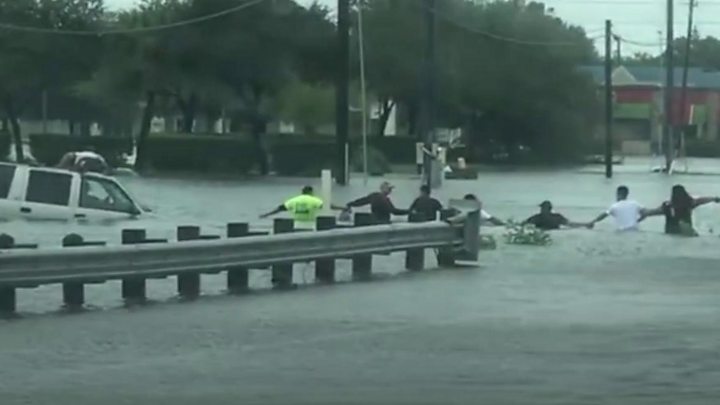 An elderly man stranded in his vehicle by rising floodwater has been saved by passersby who risked their lives to form a human chain and rescue him.
The moment was captured on video by Stephanie Mata, who had been driving along the non-flooded part of the road at the time.
"It just shows how we Texas people can come together as one," she said, "and we will pull through this as one".
Passersby had spotted the man trapped in the rapidly disappearing car and formed a human chain into the fast-flowing water.
Several of them then climbed on top of the vehicle, pulled the door open and helped the man back to dry land, where he was taken for a medical check-up.
---
You might also like:
Texas care home residents safe and dry
US boy copies film scene to save brother
Brewing tea in the shadow of a missile
---
Mrs Mata said: "The people had no rope to get him out, so they made a chain holding each other.
"They held on till they got him safe. There was a cop nearby who took him to get checked out as he was so cold."
By Annie Flury, UGC and Social Team