Stranded Houston bakers keep the dough rising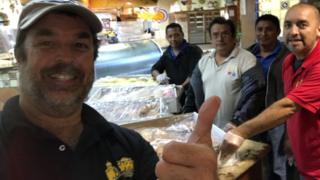 What do you do when you're a baker who finds they're stranded at work because of rising flood water? The answer is simple, you keep on baking.
That's what happened to staff at El Bolillo Bakery in the south of Houston, devastated by the flooding caused by Hurricane Harvey, who got to the end of their shift and realised there was no way to leave the building.
Although they were worried about the safety of their own families they decided to keep their aprons on and get back to kneading dough.
By the time their boss reached them two days later he found his tired employees had baked their way through 4,000lbs (1,800kg) of flour.
The Mexican bakery was one of the only ones in the city not to lose power or to be flooded.
And despite the huge bread shortage in the city the owner Kirk Michaelis decided not to push up his prices but to give it away instead.
His daughter Meagan Michaelis, who works for the company too, said: "Dad was able to get to them because he has an old jeep which is jacked up a little higher.
"He used it to take the bread to the first responders who were able to share it out at centres in the city where people who've been flooded out are staying."
Realising his bakers had no way to get to their own families he took them back to stay at his home for a couple of days until the water levels started to drop.
"It was when they were going to go back to Dad's house that the guys told him there were four other employees trapped at our Pasadena bakery," Ms Michaelis added. "So he called in to pick them up too."
---
You might also like:
---
Since then the bakery, which produces 100 different types of bread and cakes each day, has continued to put in extra time to make bread for people in the city who have been made homeless.
"We've been using the jeep to take boxes and boxes of bread to local centres, and churches and an a local old folks home because there's no bread in the supermarkets," added Ms Michaelis.
Praising the staff, she said many have been affected themselves but still turn up to work every day.
"Many have been flooded and have no clothes or bed and are staying with friends but still they show up for work," she said.
"They're incredible people and it is amazing the amount of good stories that are in this unique storm.
"It's proof that we can all do something."