Manslaughter charges dropped in fraternity hazing case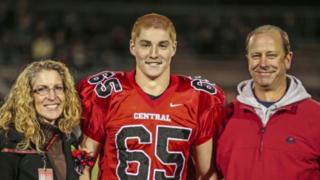 A judge has dropped the most serious charges against members of a Pennsylvania State University fraternity implicated in the death of a student during an initiation.
Timothy Piazza, 19, had been drinking heavily when he fell down basement stairs at a campus fraternity, which is a social club for young men.
Involuntary manslaughter and aggravated assault charges were all thrown out.
Police had charged 18 men over their failure to seek medical attention.
The students did not call an ambulance for nearly 12 hours after Mr Piazza suffered his injury.
He died a day later of injuries including a fractured skull and damaged spleen.
Surveillance cameras showed students slapping Mr Piazza and jumping on his unconscious body in order to wake him.
In his ruling, Judge Allen Sinclair threw out all the charges against four defendants, meaning 14 members will now stand trial.
The most serious charge any of them will now face is reckless endangerment, which carries little to no jail time.
The college first-year student had been participating in a "pledge" event in February where candidates for the fraternity are required to consume various drinks.
Speaking to NBC news in May, his mother Evelyn, said: "Nobody should consume that much alcohol. That's torture."
"They basically treated our son as road kill and a ragdoll," his father, Jim Piazza said.
The Piazza family said that they are also upset with the university for not sending a representative to the funeral or wake.
What is hazing?
It is an induction ritual given typically to new members of the US college men and women's social clubs known as fraternities and sororities, but also to military recruits.
The practice can include physical violence, sexual coercion, forced alcohol consumption, or degrading and dangerous "pranks" such as forcing people to eat vile food mixtures or consume large amounts of water.
It is illegal in most US states, amounting usually to a misdemeanour charge, unless there are serious injuries.