Tiger fur-lined robes... what do Saudi gifts to Trump mean?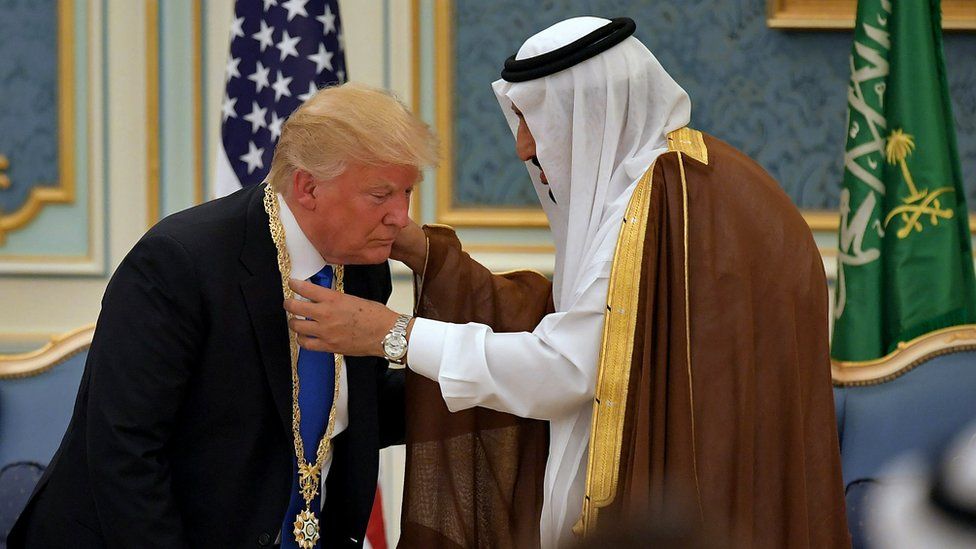 When Winston Churchill went to see King Abdul Aziz ibn Saud in February 1945, he soon realised that the £100 ($134) worth of perfume he brought was no match for the robe, jewelled sword, dagger and diamond rings he received in return.
Despite the fiscal squeeze of World War Two, the British prime minister returned home and promptly ordered one of the first Rolls-Royce cars produced after the war to be sent to the king seven months later.
World leaders today may not hand out planes or luxury cars, but a recent State Department document detailing 83 items US President Donald Trump received during his May visit to Saudi Arabia underscores the long-held practice of extravagant gift-giving in the Gulf kingdom.
During his first foreign visit as president, Mr Trump attended an Arab Islamic Summit in the Saudi capital of Riyadh, where King Salman bestowed to him a stockpile of gifts including multiple swords, daggers, leather ammo holders and holsters, beaded and gold-embroidered dresses, dozens of Shemagh head scarves and other traditional Arab garments, leather sandals, perfumes and artwork.
The list of items, obtained by the Daily Beast through a Freedom of Information Act request to the State Department, appears to glimpse the gilded world and diamond-encrusted indulgence of Saudi culture.
But in fact, the gifts are not so luxurious after all, says Ali Shihabi, executive director of the Arabia Foundation.
"In the old days Gulf governments used to give extravagant gifts," says Mr Shihabi. "Expensive watches, pieces of jewelery, things like that."
Gifts now are more emblematic of local culture, highlighting crafts and artefacts from the region, he says.
Ellen Wald, an American Middle East expert and author of the forthcoming book, Saudi, Inc, says the gifts are actually quite traditional and appear to reflect the type of trip and the size of the entourage of people who accompanied Mr Trump to Riyadh.
Members of the American delegation to Saudi Arabia in 2008 received similar items such as robes and jewelled daggers, she says.
Mr Trump won't be sporting the cheetah fur-lined robe given to him or displaying the Saudi painting of his likeness anytime soon.
US federal law bans government employees from accepting any gift from a foreign government valued at more than $390.
The longstanding rule came from a 1966 law prohibiting gifts above a "minimal value" to stop governments looking to curry favour from showering American diplomats with prize horses, luxury cars and perhaps a Rolls-Royce or two.
A 1978 law amended the minimum to $100, with an inflation-adjusted increase every three years.
Past gifts bestowed to US presidents and other diplomats are either filed away in the National Archives, displayed as relics at a presidential library or sometimes auctioned off.
Government officials are also given the option to purchase the gifts they received for market value.
Former Secretary of State Hillary Clinton exercised that option in 2012, when she purchased the black pearl necklace given to her by then-Myanmar opposition leader Aung San Suu Kyi. The necklace was valued at $970.
Some of the Saudi gifts to Trump
Blue and silver wool robe and purple wool robe, both lined with white tiger fur
Orange and gold wool robe lined with cheetah fur
Dagger made of pure silver with mother of pearl sheath and various designs
Large box containing dagger, sword, ammo holder and holster
Large canvas artwork depicting Saudi woman
Artwork featuring a picture of President Trump
Kuwaiti constitution
Visits by foreign dignitaries have customarily entailed an exchange of thoughtful - and sometimes not-so-thoughtful - gifts.
Gerald Feierstein, director of Gulf affairs for the Middle East Institute, says the practice of gift-giving is not unique to the Gulf kingdom.
He recalls receiving a Rolex watch from the Bahraini government during a trip to the Middle East in the 1990s while he served as deputy director in the Office of Arabian Peninsula Affairs at the State Department.
"It was such an impersonal thing that they didn't actually give it to me, they just delivered these watches, for all of the members of the delegation, to the secretary's airplane and off we went," he says.
When he went to submit the expensive watch to the State Department's protocol division, which is tasked with organising diplomatic gifts, he was told they had a "room full of watches from the Bahrainis".
But other gifts are tailored to the US president's predilections.
State Department officials once barred foreign governments from giving horses to President Ronald Reagan, a nod to his cowboy persona, and presenting President Bill Clinton with saxophones, his instrument of choice, Mr Feierstein recalls.
In 2015, President Barack Obama received a host of oddities, including a framed watercolour painting of men playing basketball from German Chancellor Angela Merkel, a $110,000 gold-plated mechanical bird from Sheikh Tamim bin Hamad Al Thani, Emir of Qatar, and a gold-plated, sterling silver horse sculpture embellished with diamonds, tsavorites, yellow sapphires, rubies and obsidian mounted on a rotating, piano-black lacquer base from King Salman.
In one trip to Australia's Northern Territory in 2011, Mr Obama received crocodile insurance that would have paid out A$50,000 to Michelle Obama if the president was snapped up by the deadly reptile.
When it comes to reciprocation, Mr Feierstein adds, the US reputation is less than generous.
Mr Obama raised eyebrows when he gave British Prime Minister Gordon Brown a DVD box set of American movies, which many considered a snub to the UK leader.
Does the long list of gifts for Trump mean anything?
Though Mr Trump has previously berated his Democratic opponent Hillary Clinton for taking contributions from the Saudis and made exaggerated claims about the government, the gifts he received probably do not reflect his relationship with the country, Ms Wald says.
"It reflects the culture of the region more than any sign of diplomacy or relationship," she explains.
In fact, what is unique is Mr Trump's multi-day trip there, which was more common before the advent of air travel, she adds.
The first US Ambassador to Saudi Arabia, J Rives Childs, would embark on a minimum three-day affair, when he would receive items including a sword in a gold scabbard, a carpet, a watch and a gold dagger.
On one occasion he refused the offer of a concubine to keep him company in Riyadh, Ms Walds adds.
"It's a way for the government to support the domestic industry by gifting something to the president of the United States," Mr Shihabi says.
"Gifts now are truly just a symbolic gesture."