Officer in Utah blood nurse arrest fired from medic job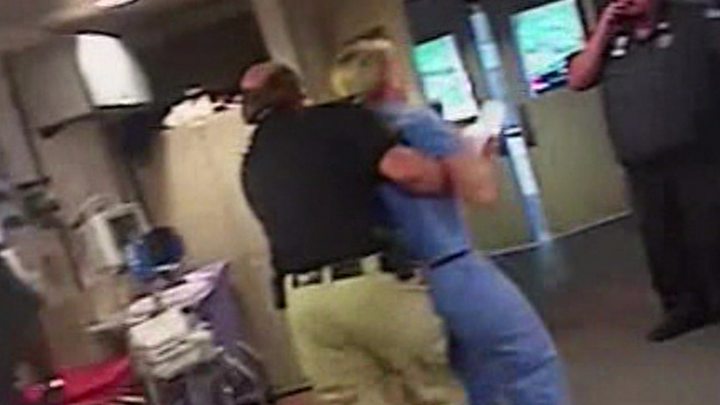 A Utah officer who arrested a nurse after she refused to draw blood from an unconscious patient has been fired from his part-time job as a paramedic.
Body camera footage showed Detective Jeff Payne dragging a nurse out of a hospital and handcuffing her after she said his request was against policy.
Emergency response service Gold Cross Ambulance said Mr Payne had been fired "effective immediately".
Mr Payne and another officer had been placed on paid administrative leave.
The company said in a statement that though Mr Payne was not working for Gold Cross Ambulance at the time of the incident, "we take his inappropriate remarks regarding patient transports seriously".
The incident, filmed on 26 July, shows Mr Payne physically dragging nurse Alex Wubbels from the University of Utah Hospital as she screamed: "I've done nothing wrong!"
He was heard saying he would retaliate against the hospital when he said: "I'll bring them all the transients and take good patients elsewhere."
Mr Payne and other Salt Lake City police officers had requested a blood sample from an unconscious crash victim who was admitted to the burn unit and in a coma.
He said in a police report that he wanted the man's blood sample to protect him rather than prosecute him.
But Ms Wubbels denied the request and handed the officers a copy of the hospital's policy, which does not allow blood to be drawn from a patient who had not given permission or had not been arrested.
Mr Payne called his lieutenant, who told Ms Wubbels she would be arrested if she did not provide the blood sample.
She was later released without charges and a criminal investigation into the incident is ongoing.
Police have said the lieutenant's actions were also under review.
"The only job I have as a nurse is to keep my patients safe," she told the BBC earlier this month.