Houston flood: Texas emergency crews sue Arkema chemical plant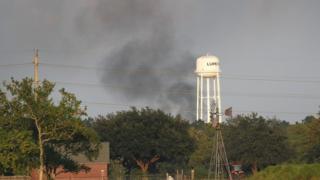 Seven members of the Texas emergency services are suing a chemical factory rocked by explosions and fires after Hurricane Harvey.
Lawyers allege that negligence caused flammable materials to ignite after the Arkema plant near Houston was flooded and lost power.
The seven were enforcing a 1.5-mile evacuation zone and were treated in hospital after breathing smoke.
Arkema denies failing to warn of the dangers of breathing the smoke.
The alarm was raised at the flooded plant, in Crosby, when power failed and organic peroxides stored there could no longer be kept refrigerated, making them combustible.
After the area was sealed off, explosions and fire ripped through the containers, sending plumes of smoke over the area. The fires were eventually put out and authorities lifted the evacuation order on Monday.
'Doubled over vomiting'
The lawsuit, filed in Harris County Court on Thursday, claimed Arkema "ignored the foreseeable consequences of failing to prepare".
It said that early on 31 August the first of several explosions took place and "immediately upon being exposed to the fumes... the police officers and first responders began to fall ill in the middle of the road".
It said emergency medical teams arrived "and even before exiting their vehicle they became overcome by the fumes as well. The scene was nothing less than chaos".
The court document alleged that no-one from Arkema alerted emergency services to the toxic fumes, adding: "Police officers were doubled over vomiting, unable to breathe. Medical personnel, in their attempts to provide assistance to the officers, became overwhelmed and they too began to vomit and gasp for air."
The seven are claiming more than $1m (£763,000) in damages.
In a statement, Arkema said it "deeply" regretted that anyone had suffered harm, "particularly first responders who worked with us side-by-side to keep the public safe".
It said its employees "did everything they could to protect the public, while fighting fast-rising flood waters".
An investigation into the incident has been launched by the federal Chemical Safety Board and the Environmental Protection Agency is monitoring the site for pollutants.