Exiled Chinese billionaire Guo Wengu seeks US asylum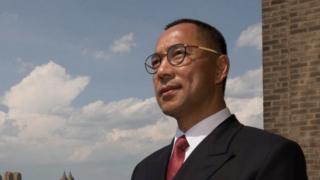 A New York-based property tycoon who has accused top Chinese officials of corruption has applied for political asylum in the US, his lawyer said.
Guo Wengui, also known as Miles Kwok, believes he is "perceived as a political opponent of the Chinese regime", Thomas Ragland told the BBC.
Beijing has sought Mr Guo's arrest, but charges against him are unclear.
State media outlets have accused the 50-year-old of bribing a vice-minister, a charge which Mr Guo has denied.
"He fears that the Chinese regime would seek retribution for the things he's been saying and the exposure he's been responsible for," Mr Ragland said on Thursday.
Mr Guo, who left China in 2014, has published a series of tweets and YouTube videos to allege corruption among top members of the ruling Chinese Communist Party, including Beijing's anti-corruption czar, Wang Qishan.
He has also released what he alleges are official state secrets ahead of a key Communist Party congress, which is held every five years and is scheduled to begin on 18 October.
'Eleven passports'
Though Mr Guo has not provided substantial evidence for his claims, his criticism has drawn ire from Beijing.
The Chinese government in April issued a global "red notice" through the global police co-operation agency Interpol for Mr Guo's arrest.
Chinese authorities have reportedly investigated Mr Guo for at least 19 crimes including kidnapping, fraud and money laundering, according to AP news agency.
Last month Chinese police opened an investigation into a new allegation of rape against Mr Guo, the agency reported.
In April, Chinese news outlets said Mr Guo had bribed the former vice-minister of state security, Ma Jian, with 60m yuan (£6.8m, $8.7m). Mr Ma has since been arrested and is being prosecuted for corruption.
Mr Guo has denied the charges and suggested the arrest warrant was politically motivated.
As an asylum applicant, Mr Guo, whose tourist visa is due to expire later this year, is entitled remain in the US until a final administrative decision is reached, Mr Ragland said.
The national average for an asylum application process is two to three years, Reuters news agency reports.
He also faces a series of defamation lawsuits in the US by several Chinese individuals and companies.
Mr Guo says he is no longer a citizen of China.
In April, he told Voice of America's Chinese-language service he had passports from 11 countries, but it is unclear why he would not move to another country once his US visa expires.
Mr Ragland declined to elaborate on his standing as a Chinese citizen, citing confidentiality reasons.
"He is here on a valid passport with a valid visa and beyond that I don't really want to discuss passport issues," he said.