The deadly danger from Miami's ubiquitous cranes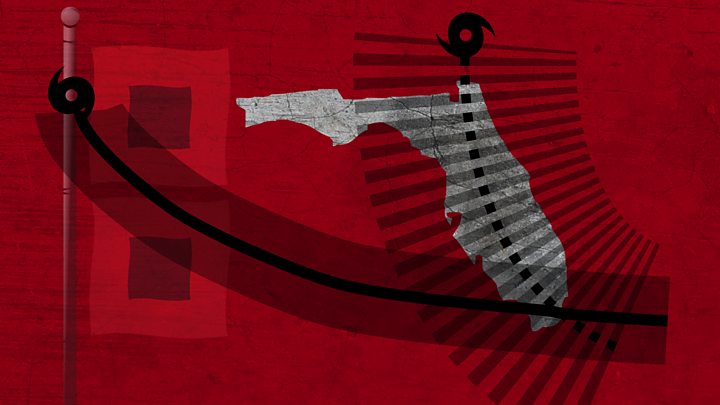 The city of Miami has warned its citizens that the huge construction cranes that dot the skyline could cause potentially deadly accidents in Hurricane Irma.
Zachary Fagenson has a spectacular view. From the balcony of his 23rd storey apartment overlooking downtown Miami, he can see the performing arts centre, the stadium where the Miami Heat basketball team play, and the blue waters of the Biscayne Bay.
He can also see no less than five construction cranes, rising hundreds of feet into the sky, which has darkened ominously as Hurricane Irma draws nearer Miami's glittering skyline.
Though the cranes are able to withstand winds of up to 145 miles per hour, the storm could bring gales travelling at up to 185 mph.
And yet the cranes are still in the sky.
"It seems like everyone is getting caught a bit with their pants down," says Mr Fagenson.
In a public release, the deputy director of Miami's building department, Maurice Pons, wrote that anyone living in a building near a crane should evacuate.
"The crane's arm has to remain loose; it is not tied down," he wrote. "The arm's counterbalance is very heavy and poses a potential danger if the crane collapses."
The release says there are 20 to 25 cranes currently in the air.
Peter Zalewski, a Miami real estate consultant and owner of the condo construction tracking website Crane Spotters, believes that is a low-ball figure. According to his calculations, there are 59 condo towers - a collective total of 1,509 storeys - currently under construction in or near the evacuation zone.
He says he wouldn't be surprised if there are as many as 50 cranes currently up in and around downtown Miami.
"In Silicon Valley they make tech - in Miami we make condos," he says.
Real estate development in Miami has progressed at a breakneck speed in the last three decades. The population in South Florida has exploded and the demand for luxurious, waterfront condominiums has sent hundreds of towers shooting up into the Miami skyline.
According to Mr Zalewski, 42,890 condos have been built in Miami-Dade county since 2002.
But the decision to leave the cranes that make those breath-taking views possible in place is looking like an increasingly dangerous situation.
Thomas Barth, owner of Barth Crane Inspections and an expert in crane accidents, says there is no way that the cranes in Miami should have been left where they are. He faults shortsighted project developers hoping their work sites will make it through the storm unscathed.
"This is my personal opinion - it's a great expense to take those down. They're trying to save a penny," he says. "They'd have to shut the job down far before the storm."
'Effectively a laboratory'
Mr Barth warns that the cost of the damage done by a crane collapse would far surpass the cost of shutting down a work site, to say nothing of the potential loss of life.
"It can cause a lot of damage - millions of dollars of damage if it falls into the buildings next to it," he says. "The people in the buildings - they could be crushed."
The city claims they simply ran out of time, and that tower cranes can take up to two weeks to take down. Barth argues there are other options, like dismantling the arm and leaving the tower in place.
There is another factor in addition to the risk from crane collapse. The vast majority of Miami's condominiums were constructed after Hurricane Andrew in 1992. That disaster sparked many strict new construction codes and they'll be put to the test for the first time with Irma.
"This is effectively a laboratory," he says. "People have just moved in, they haven't worked out the kinks... these new buildings haven't settled."
Mr Zalewski has himself been evacuated from his own 29th storey flat in a building he says is surrounded by at least 10 cranes.
"Some will come down if the weather comes and the winds are blowing and the gusts are what they say they are," he says. "These cranes are everywhere."