Ontario judge Bernd Zabel suspended for wearing Trump hat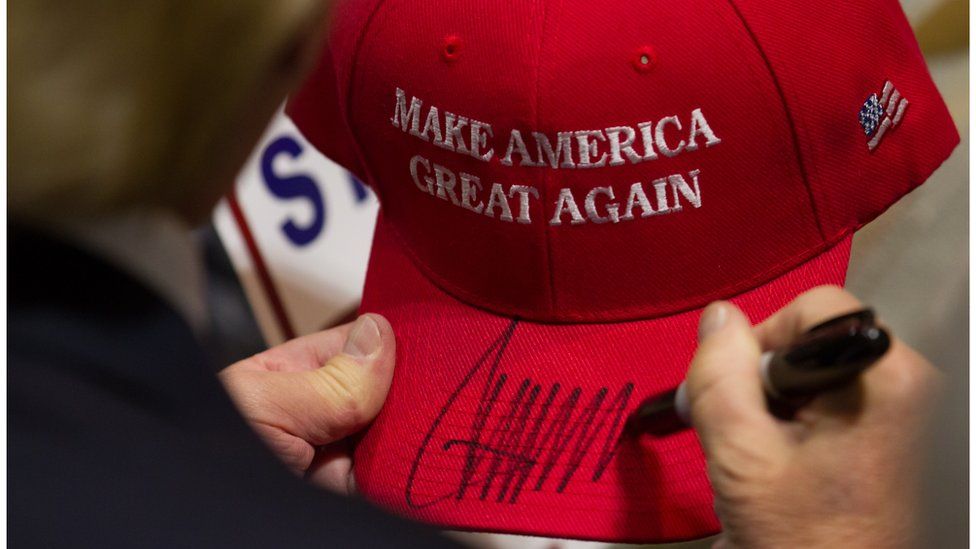 A Canadian judge who wore a "Make America Great Again" hat into court after the US election has been reprimanded and suspended for 30 days without pay.
Ontario court justice Bernd Zabel, 69, faced a series of possible sanctions for his conduct on 9 November.
The Ontario Judicial Council (OCJ) held an inquiry into his actions in late August.
Mr Zabel has called wearing the hat an "ill-considered" attempt at a joke.
He has also apologised in open court and admitted that wearing the Donald Trump campaign hat into court was judicial misconduct.
Suspension without pay is the most serious sanction the OJC can impose short of removal from office.
The body investigates complaints about the conduct of provincially appointed judges.
In a summary of its decision released on Tuesday, the OJC said Mr Zabel "committed a single aberrant and inexplicable act of judicial misconduct" in an otherwise "unblemished and exemplary" 27-year record on the bench.
It found that the act of wearing the baseball cap into the courtroom "violated the fundamental principle that the judiciary must remain above and removed from politics".
In August, the judge told the inquiry that he was trying to "add a little humour" by making a joke about the unexpected results of the American election.
But in its decision, the OJC inquiry panel said that a "reasonable" member of the public could have thought the Mr Zabel was making a political statement by donning the cap.
The OJC received 81 complaints about his conduct from legal groups, lawyers and members of the public. Mr Zabel stopped being assigned cases on 21 December.
The inquiry also received 62 character references and letters from colleagues and others expressing their support for the judge and praising his integrity.
The inquiry panel said the biggest mitigating factor in its final decision was evidence of Mr Zabel's record as an "open-minded and impartial" judge.
"He does not exhibit any of the polarized, misogynistic, racist or homophobic views many of the complainants attribute to Donald Trump," the OJC summary said.
Members of vulnerable groups need have no fear about the treatment they would receive in Justice Zabel's court".