Coyote travels 35km 'embedded' in car grille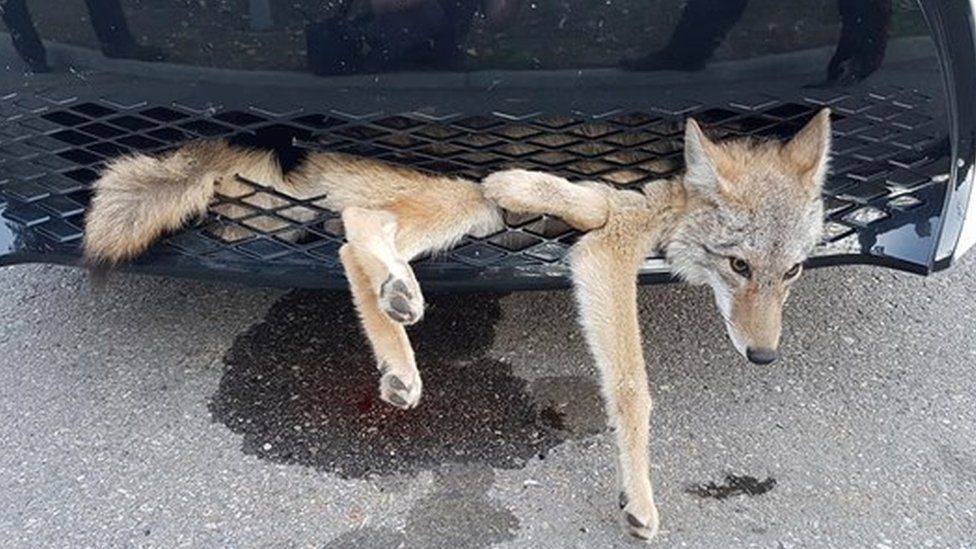 A Canadian woman who thought she had run over a coyote got a surprise when she found it blinking up at her from her car's front grille.
Georgie Knox, from Airdrie, Alberta, was on her way to work when the animal darted in front of her vehicle.
In a post on Facebook, she said she hit the animal, heard a "crunch", and thought she had killed it.
But a construction worker flagged her down at a traffic light and told her it was alive and "embedded" in the car.
"When I got out to look, this poor little guy was looking up and blinking at me," she said on Facebook.
Ms Knox had driven all the way "at highway speeds" from Airdrie to Calgary, about 35km (21 miles).
She notified provincial wildlife officials who managed to rescue the coyote.
"Miraculously, he was freed and had minimal injuries," she said.
He was given a clean bill of health by a provincial biologist and released by wildlife officials in Kananaskis County, near the foothills of the Rockies, about 100km east of Airdrie.
"Clearly mother nature has other plans for this special little guy!" she said.
Coyotes are native to Alberta and slightly larger in size than a red fox.