Hurricane Irma: Pope Francis condemns climate change sceptics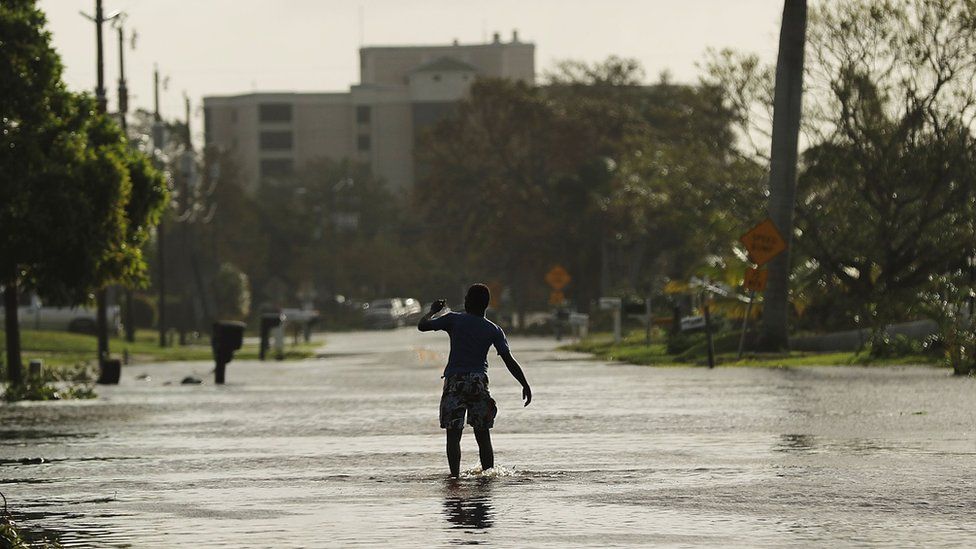 Pope Francis has warned history will judge world leaders who do not act as he blasted climate change sceptics in the wake of Hurricanes Irma and Harvey.
The pontiff said the recent storms meant the effects of climate change could be seen "with your own eyes".
There have been four major Atlantic hurricanes in less than three weeks.
But US Environmental Protection Agency head Scott Pruitt said it was an inappropriate time to discuss what role climate change may have played.
Mr Pruitt - who has previously said he "would not agree" carbon dioxide is a primary contributor to global warming - told CNN current speculation "on the cause and effect of the storm... is misplaced".
Instead, Mr Pruitt said the conversation should be focused on the clean up effort.
Miami Mayor Tomás Regalado - whose city ended up partially underwater as Hurricane Irma swept across Florida - disagreed however, telling the Miami Herald newspaper: "This is the time to talk about climate change. This is the time that the president and the EPA and whoever makes decisions needs to talk about climate change."
Can we blame worsening hurricanes on climate change?
By Matt McGrath, BBC News environment correspondent
Hurricanes are complex, naturally occurring beasts - extremely difficult to predict, with or without the backdrop of rising global temperatures.
The scientific reality of attributing a role to climate change in worsening the impact of hurricanes is also hard to tease out, simply because these are fairly rare events and there is not a huge amount of historical data.
But there are some things that we can say with a good deal of certainty.
There's a well-established physical law, the Clausius-Clapeyron equation, that says that a hotter atmosphere holds more moisture.
For every extra degree Celsius in warming, the atmosphere can hold 7% more water. This tends to make rainfall events even more extreme when they occur.
Another element that we can mention with some confidence is the temperature of the seas.
"The waters of the Gulf of Mexico are about 1.5 degrees warmer above what they were from 1980-2010," Sir Brian Hoskins from the Grantham Institute for Climate Change told BBC Radio 4's Today programme.
"That is very significant because it means the potential for a stronger storm is there, and with the contribution of global warming to the warmer waters in the Gulf, it's almost inevitable that there was a contribution to that."
Addressing climate change appears to have fallen down the agenda since Donald Trump took power in January.
The US president has already rolled back some of the environmental protection laws put in place under his predecessor, Barack Obama, and announced his intention to withdraw from the Paris Climate Accord.
It is unclear where Mr Trump stands on climate change today. However, he tweeted in 2012 that it was made up by China "to make US manufacturing non-competitive".
Pope Francis, who is returning from a five day trip to Colombia, has no such doubts. He fears the impact of climate change will be hardest on the world's poorest residents, and has been openly critical of those who do not play their part in reducing its effects - including Mr Trump.
His most recent comments could also be seen as a thinly veiled dig at the president.
"If we don't go back we will go down," he warned reporters on Monday. "That is true. You can see the effects of climate change with your own eyes and scientists tell us clearly the way forward.
"All of us have a responsibility. All of us. Some small, some big. A moral responsibility, to accept opinions, or make decisions. I think it is not something to joke about."
He then quoted a phrase from the Old Testament: "Man is stupid, a stubborn, blind man."
"Those who deny it (climate change) should go to the scientists and ask them," the Pope said. "They are very clear, very precise."