Charlottesville: Protesters cover Thomas Jefferson statue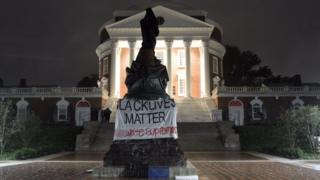 Protesters covered a statue of former US President Thomas Jefferson in black at the University of Virginia in Charlottesville.
Dozens of people staged the protest on Tuesday, reportedly posting a sign reading "TJ is a racist and rapist".
The act happened exactly one month after a far-right rally was held against plans to remove the statue of a Confederate general in the town's park.
Jefferson, one of the US founding father, was known for owning slaves.
The black tarpaulin cover has since been removed, according to US media.
Some 100 students, faculty and community members reportedly took part in the demonstration, which mimicked the decision by Charlottesville's authorities last month to shroud Confederate statues.
The protesters marched and chanted slogans against US President Donald Trump and the Ku Klux Klan, and carried Black Lives Matter posters.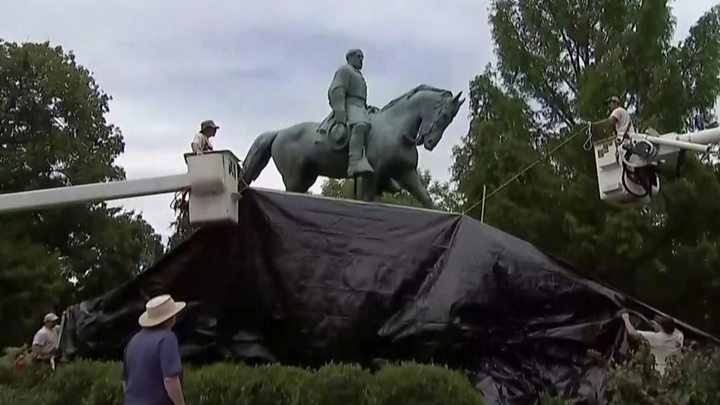 They read a list of demands, which included a ban on white supremacist hate groups from the campus and an increase in the enrolment of African-American undergraduate students.
The demands also included a call to "remove the Confederate plaques on the Rotunda" and balance the university's "historical landscape."
The list said Jefferson's statue was "an emblem of white supremacy" that should be "re-contextualized with a plaque to include that history".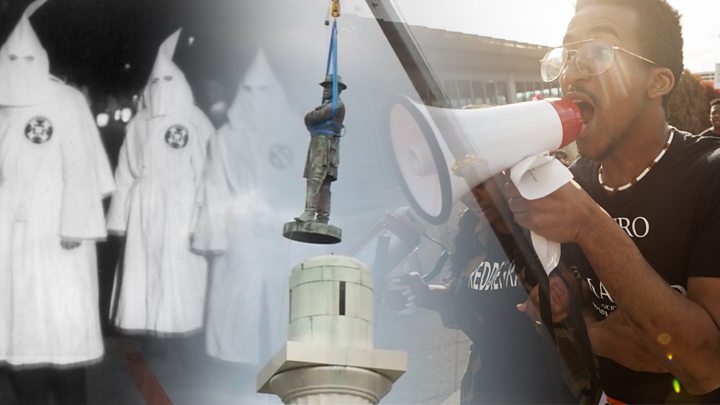 Last month, a far-right rally supported by white supremacists and neo-Nazis was held at the university against the planned removal of a statue of General Robert E Lee, who commanded forces of the pro-slavery Confederacy in the US Civil War of 1861-65.
One person was killed when a car rammed a crowd of people who were against the August rally.
Thomas Jefferson was the third US president, the main writer of the 1776 Declaration of Independence and the founder of the University of Virginia. He was also known for owning up to 140 slaves.