Irma: Viral photo of Florida officers draws flirty response on Facebook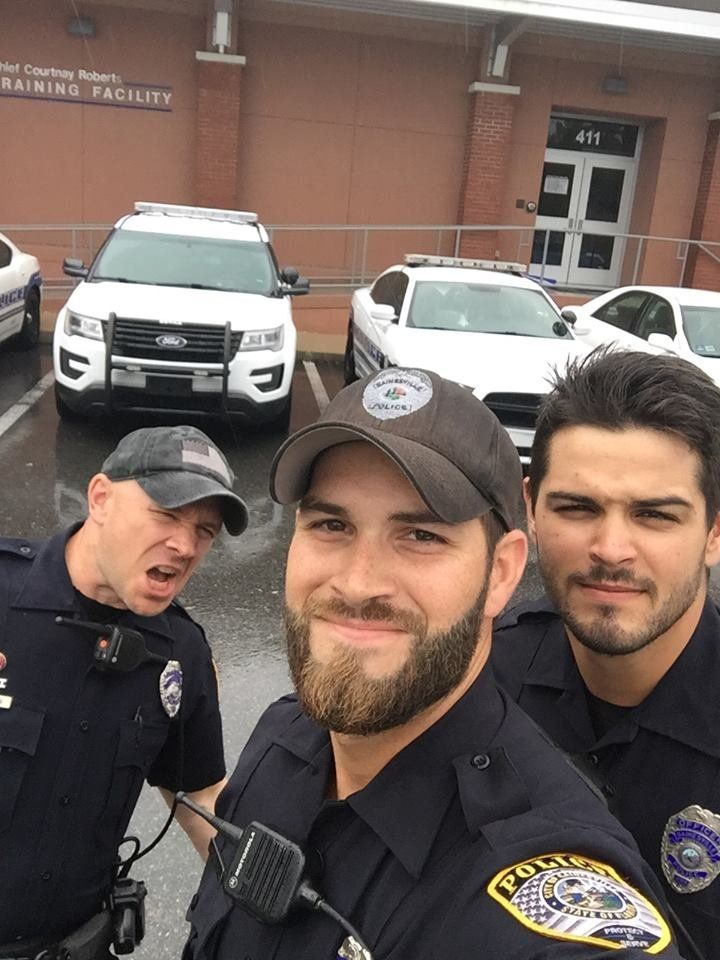 A selfie by three police officers helping victims of Hurricane Irma in a Florida city has spawned a flurry of flirtatious comments after it was posted on Facebook.
The Gainesville Police Department shared the photo of Officers Nordman, Hamill and Rengering on Sunday.
"Part of the night crew getting ready to do some work," it said.
Risque comments about Gainesville's finest were soon pouring in from a legion of female admirers.
"This pic is exactly why your grandmother always told you to wear clean underwear in case you're in an accident," quipped one user.
"That moment when you don't care about getting the ticket because one of them is talking to you for 20 mins," read another response.
So far, the photo has been shared more than 215,000 times, attracted 374,000 reactions and 138,000 comments.
Some users suggested they wouldn't mind being arrested by one of the officers.
Others called for the trio to pose for an official calendar.
Overwhelmed by the response, Gainesville Police replied on Tuesday: "We are dying with the comments. You've actually made our chief blush with some of them."
The department added that two of the pictured officers' wives had also appreciated the remarks.
"Mrs Nordman and Mrs Hamill have also enjoyed knowing how millions of women are going crazy over their husbands.
"We can confirm that officer Rengering (far right with the amazing hair) IS SINGLE.
"On another note, officer Rengering is being placed into Cougar Prey Protective Care, similar to the witness protection program for his safety.
"Please do not call 9-1-1 and request this group respond to your 'incident'."
Much to the delight of some of the users, Gainesville Police also promised a calendar with the funds raised going to Irma victims.
The department shared more selfies of police officers and relief workers helping the city's residents.
The popularity of Gainesville Police's hunks did not go unnoticed by other law enforcement departments in Florida.
The official Facebook account of police in the city of Sarasota stepped up to offer some competition.
"Gainesville Police Department has nothing on us," Sarasota Police posted on Facebook.
By the BBC UGC and Social News Team