Charlottesville: Trump repeats 'both sides' rhetoric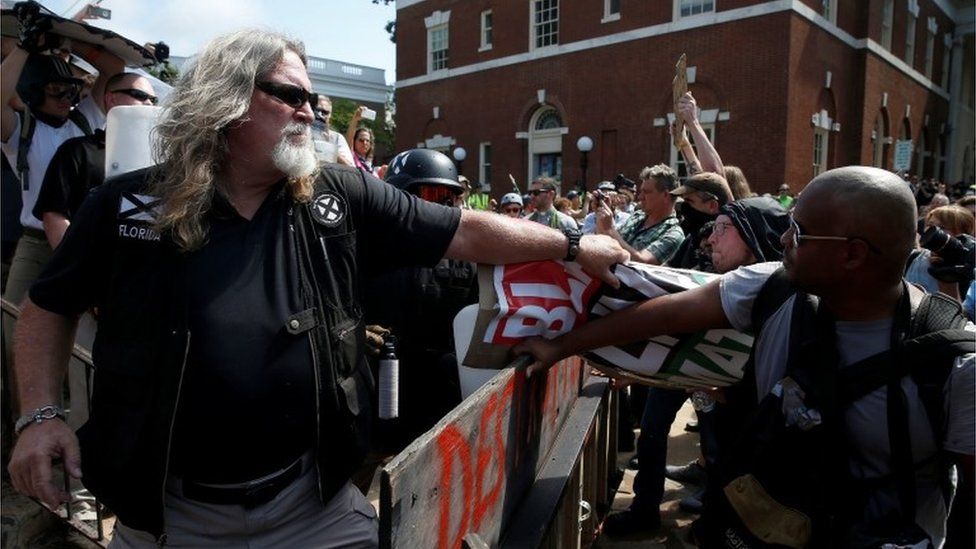 US President Donald Trump has repeated the controversial argument that "both sides" were at fault in white supremacist violence last month.
"A lot of people are saying... 'Gee, Trump may have a point'," he said.
Mr Trump made the comments hours before signing a resolution condemning white supremacists, neo-Nazis, and other hate groups following the violence in Charlottesville on 12 August.
One woman was killed when a car ploughed into a crowd in the city.
That incident had followed a far-right rally which was supported by white supremacists and neo-Nazis protesting against the removal of a statue of Robert E Lee, a general who had fought for the pro-slavery Confederacy during the US Civil War.
Mr Trump faced bipartisan criticism when he first condemned violence - in which anti-racism protester Heather Heyer, 32, was killed - "on many sides".
On Wednesday, Mr Trump met South Carolina Senator Tim Scott, who had condemned his comments in the aftermath of the violence.
Mr Trump revived controversy over the issue on Thursday, when he said, after being asked about the meeting with Mr Scott: "I think especially in light of the advent of Antifa [anti-fascists], if you look at what's going on there. You have some pretty bad dudes on the other side also and essentially that's what I said.
"Now because of what's happened since then with Antifa. When you look at really what's happened since Charlottesville, a lot of people are saying and people have actually written, 'Gee, Trump may have a point.'
"I said there's some very bad people on the other side also."
Hours later, Mr Trump signed a resolution "rejecting white nationalists, white supremacists, the Ku Klux Klan, neo-Nazis, and other hate groups".
The resolution, which the president said he was "pleased to sign", was unanimously passed by Congress earlier this week.
"As Americans, we condemn the recent violence in Charlottesville and oppose hatred, bigotry, and racism in all forms," Mr Trump said in a statement.
Mr Scott - the lone African American Republican Senator - was asked about Mr Trump's version of their meeting.
"I didn't go in there to change who he was," Mr Scott said. "I wanted to inform and educate a different perspective. I think we accomplished that and to assume that immediately thereafter he's going to have an epiphany is just unrealistic."
Mr Scott's office said the senator was "very, very clear about the brutal history surrounding the white supremacist movement and their horrific treatment of black and other minority groups".
"Rome wasn't built in a day, and to expect the President's rhetoric to change based on one 30-minute conversation is unrealistic," the statement added.
"Antifa is bad and should be condemned, yes, but the KKK has been killing and tormenting black Americans for centuries. There is no realistic comparison. Period."