Hurricane Irma: Trump visits Florida to see damage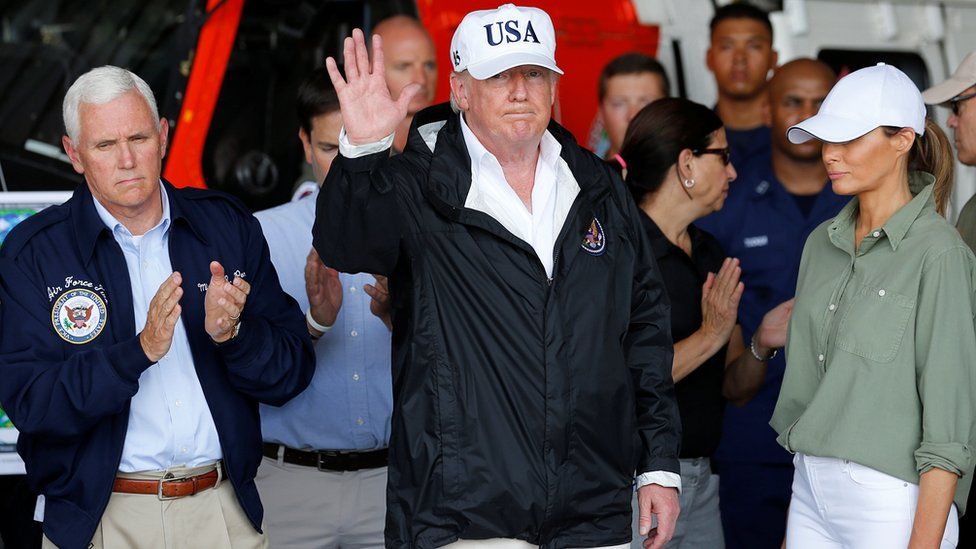 US President Donald Trump has visited Florida to meet people affected by Hurricane Irma and thank the emergency services.
Mr Trump was briefed in Fort Myers with his wife Melania and Vice-President Mike Pence, before they headed to Naples on the state's west coast.
There, Mr Trump met residents and handed out food and water.
More than four million homes and businesses are still without power in Florida and neighbouring states.
Having left a trail of destruction in the Caribbean, Hurricane Irma hit the Florida Keys at the weekend and made its way up the Gulf Coast before dissipating.
The hurricane has killed more than 55 people in total. After arriving in Fort Myers, Mr Trump said: "When you think of the incredible power of that storm, and while people unfortunately passed, it was such a small number.
"People thought thousands and thousands of people may have their lives ended and the number is a very small number, which is a great tribute to you."
Mr Trump also complimented Florida Governor Rick Scott's response to the crisis, and said he should run for the US senate.
He has previously praised Texas Governor Greg Abbott for his work tackling the effects of Hurricane Harvey, which hit his state at the end of last month, also causing widespread devastation.
On Thursday, Governor Abbott said more than 80 people in Texas were likely to have been killed in Hurricane Harvey, according to Reuters news agency.
In Florida, Hurricane Irma is reported to have destroyed a quarter of homes in the Florida Keys, a series of low-lying islands.
On Twitter, Mr Trump said that first responders had been "great" but he warned there was "much work to do".
Am leaving now for Florida to see our GREAT first responders and to thank the U.S. Coast Guard, FEMA etc. A real disaster, much work to do!

— Donald J. Trump (@realDonaldTrump) September 14, 2017
The home was left without power after Hurricane Irma arrived.