ESPN accepts anchor's apology for Trump tweets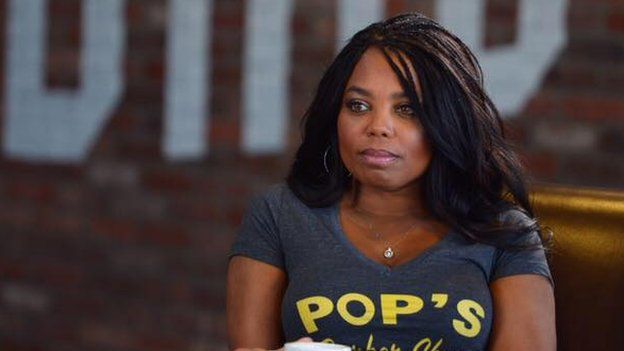 Cable sports network ESPN has said it accepts an apology from an anchor who sparked backlash for calling President Donald Trump a "white supremacist".
Jemele Hill lashed out at Mr Trump on Twitter, calling him a "bigot" and the "most offensive, ignorant president of my lifetime".
She apologised on Wednesday after the White House called her remarks a "fire-able offence".
ESPN then said she had acknowledged her tweets "crossed the line".
"My regret is that my comments and the public way I made them painted ESPN in an unfair light. My respect for the company and my colleagues remains unconditional."
Minutes later, ESPN responded in a statement: "Jemele has a right to her personal opinions, but not to publicly share them on a platform that implies that she was in any way speaking on behalf of ESPN.
"She has acknowledged that her tweets crossed that line and has apologized for doing so. We accept her apology."
The corresponding statements came after White House spokeswoman Sarah Huckabee Sanders said Ms Hill's tweets were "one of the more outrageous comments that anyone could make, and certainly something that I think is a fire-able offence at ESPN".
Ms Hill, an African-American co-host of the SportsCenter programme, called the president a "bigot" and criticised his supporters in a series of tweets on Monday.
Donald Trump is a white supremacist who has largely surrounded himself w/ other white supremacists.

— Jemele Hill (@jemelehill) September 11, 2017
He is unqualified and unfit to be president. He is not a leader. And if he were not white, he never would have been elected

— Jemele Hill (@jemelehill) September 12, 2017
Her comments prompted outcry among some Twitter users, who called for her to be sacked.
Others came to her defence, including NFL reporter Jim Trotter, who tweeted: "Proud to call you a colleague and a friend".
NFL quarterback Colin Kaepernick, who made national headlines last year for kneeling during the national anthem before games to protest police brutality, also expressed his support for Ms Hill in a tweet.
Critics of Mr Trump have accused him of racism after his response to deadly clashes at a far-right rally, held by neo-Nazis and white supremacists, in Charlottesville, Virginia, last month.
Mr Trump initially failed to denounce the groups responsible for the rally, and later suggested both hate groups and counter protesters were to blame for the violence.
ESPN on Wednesday disavowed Ms Hill's tweets, saying her remarks did not represent the position of the company and that she "recognises her actions were inappropriate".