US Treasury Secretary wanted military jet for European honeymoon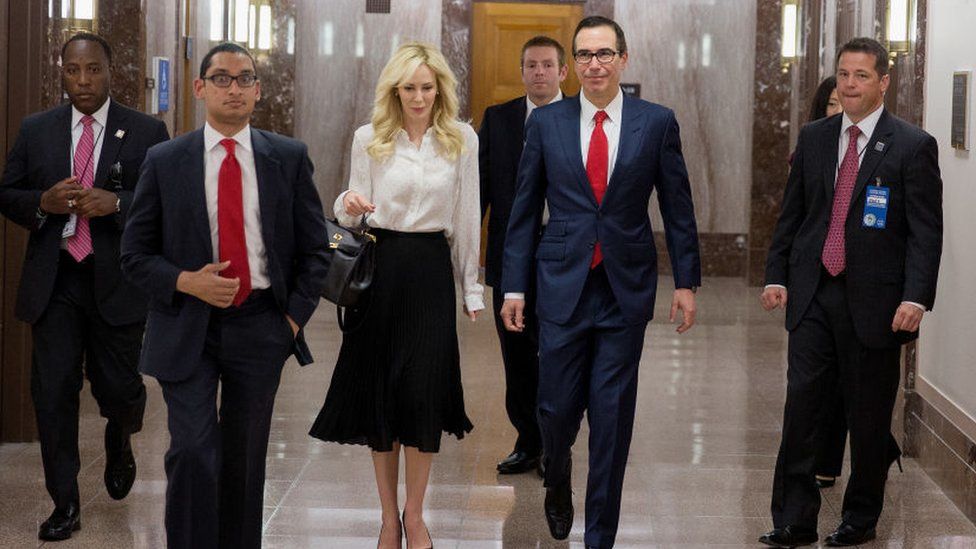 US Treasury Secretary Steven Mnuchin asked to use a government plane for his European honeymoon last month, his office has confirmed.
The request sparked an inquiry from the department's inspector general, and comes as he already faces scrutiny over the use of another military aircraft.
His spokesman said the plane was needed to ensure that he had a secure line of communication to the White House.
But the request was later withdrawn, the spokesman added in a statement.
"It is imperative that he have access to secure communications, and it is our practice to consider a wide range of options to ensure he has these capabilities during his travel, including the possible use of military aircraft," a spokesman said on Wednesday.
Government jets are typically only used by the secretary of state or secretary of defence, who both deal directly with national security matters.
But Mr Mnuchin's office defended the request, saying the $25,000-per-hour plane was needed due to his position on the White House National Security Council.
It said the plane was later deemed "unnecessary" after another method of communication was discovered.
US President Donald Trump later said that he "doubted" that Mr Mnuchin would have acted inappropriately and that he had "total confidence" in the treasury secretary.
"I've known him a long time, he is a very straight shooter," Mr Trump told reporters on board Air Force One, adding: "He's a very honourable man."
Mr Mnuchin, a former Goldman Sachs banker, travelled to Scotland, France and Italy after marrying a Scottish actress named Louise Linton in June.
The inspector general for the Treasury Department is already investigating Mr Mnuchin's use of a US Air Force plane to fly to Kentucky last month - a work trip that coincided with the total solar eclipse in that region.
Mr Mnuchin has strongly denied that the trip, in which he toured the US gold reserves at Fort Knox, was made in order for him to be in the eclipse's "path of totality".
Ms Linton drew attention to that trip after posting a photo online of herself and her husband exiting a US government plane jet.
She tagged the expensive designer clothing brands she was wearing in the photo.
After one social media user criticised her post, Ms Linton lashed out in the comments section, saying "Did you think this was a personal trip?!
"Adorable! Do you think the US govt paid for our honeymoon or personal travel?! Lololol."
News outlets in the US dubbed this Ms Linton's "Let them eat cake moment", a reference to a comment reputedly made by French queen Marie Antoinette upon hearing the citizens of Paris had no bread.
She later apologised for her online remarks.