Canada opioid crisis hits small cities hardest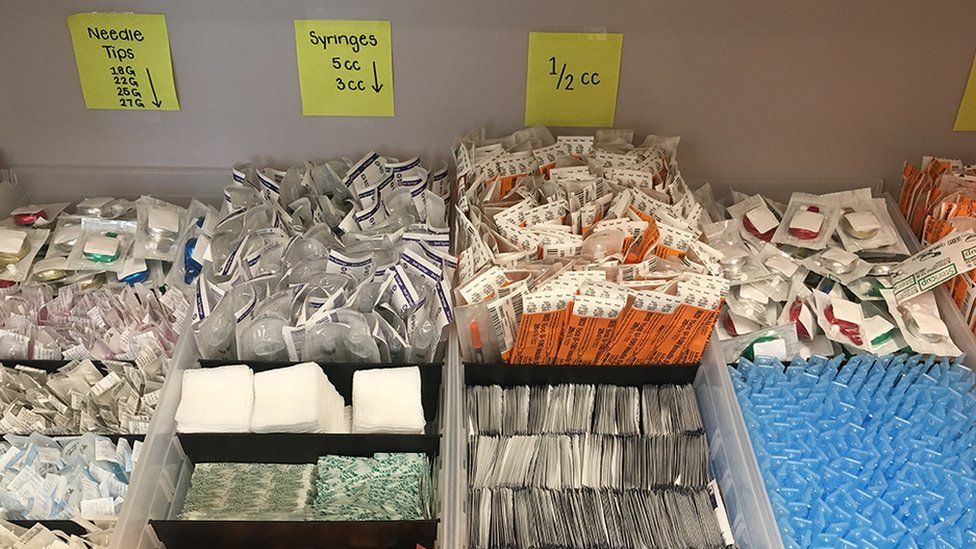 Small cities in Canada are bearing the brunt of the opioid epidemic, according to new data from health officials.
About 16 Canadians were sent to hospital a day in 2016-2017, although this number varied greatly by region.
But nine out of the 10 cities with the highest rate of hospitalisation had a population under 225,000.
The figures from the Canadian Institute for Health Information (CIHI) came as separate data showed 2,816 Canadians died from an opioid overdose in 2016.
"There is no single solution," said Dr Robert Strang, Nova Scotia's chief health officer, adding that Canada was in the midst of not one, but two opioid crises.
On one front is the rise of the powerful narcotic fentanyl, on the other was the continued over-prescription of pharmaceutical opioids, he said.
The number of people sent to hospital has increased by 54% over the past decade, according to CIHI - but the rate of hospitalisation varied widely between provinces and cities.
For example, there were 10 times as many people sent to hospital in Toronto for opioid poisoning than in Brantford - a city about 100km (62 miles) west with a population of 100,000.
But Brantford had a hospitalisation rate of 32 per 100,000 people, or four times greater than that of Toronto, which had a rate of 7.9.
"The population may reflect more seniors and more chronic use of opioids, it could just reflect more availability of drugs on the street," said Michael Gaucher from CIHI.
Suzy McDonald, from Health Canada's Opioid Response Team, said: "There's been a huge focus on large cities, and indeed we're doing more and reaching out more to figure out how we can do a better job of facilitating harm reduction services in smaller cities."