Louisiana university fraternity death 'possible hazing incident'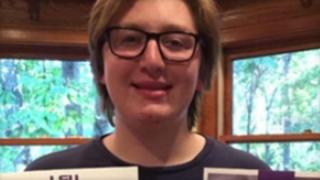 Police at Louisiana State University (LSU) are treating the death of an 18-year-old student as a "possible hazing incident", campus officials say.
Maxwell Gruver, a first-year student from Georgia, died after being rushed to the hospital for an unspecified "medical emergency".
The college president said there are allegations that hazing and alcohol were a factor in his death.
All fraternity activities have been suspended during the investigation.
"As we have continuously warned over and over again - hazing is dangerous, irresponsible, and unacceptable and it will not be tolerated at LSU, period," said university president F King Alexander.
"We mourn the loss, and the possible impact that he may have had on our region and the world," he said.
Alcohol is "part of the allegations", Mr Alexander added, saying officials are reviewing social media videos taken that night.
University spokesman Ernie Ballard said the teenager was brought to a Baton Rouge hospital by a private vehicle from the on-campus Phi Delta Theta fraternity house on Wednesday night.
A post-mortem examination is planned for Friday morning. No arrests have been made.
In a statement on its website, the Phi Delta Theta fraternity called Mr Gruver's death "heartbreaking".
It added that any "individuals who are found to have violated our policies will be held accountable".
Mr Gruver's grandfather, Eugene Gruver, recalled when the student's mother first brought her son to college.
"When she took him to LSU, she had a lot of tears leaving him there. Now she will have a lot of tears bringing him home," the 88-year-old told Time magazine.
As the school year begins each autumn some university students in US apply for social clubs called fraternities and sororities - which are together known as campus "Greek life".
The process of initiating applicants - or "pledges" as they are known - involves events which include alcohol, and has led to the deaths of several US students in recent years.
Last February, a 19-year-old Pennsylvania State University student died during a pledge event, leading to criminal charges for fraternity members.