St Louis officer cleared in shooting of Anthony Lamar Smith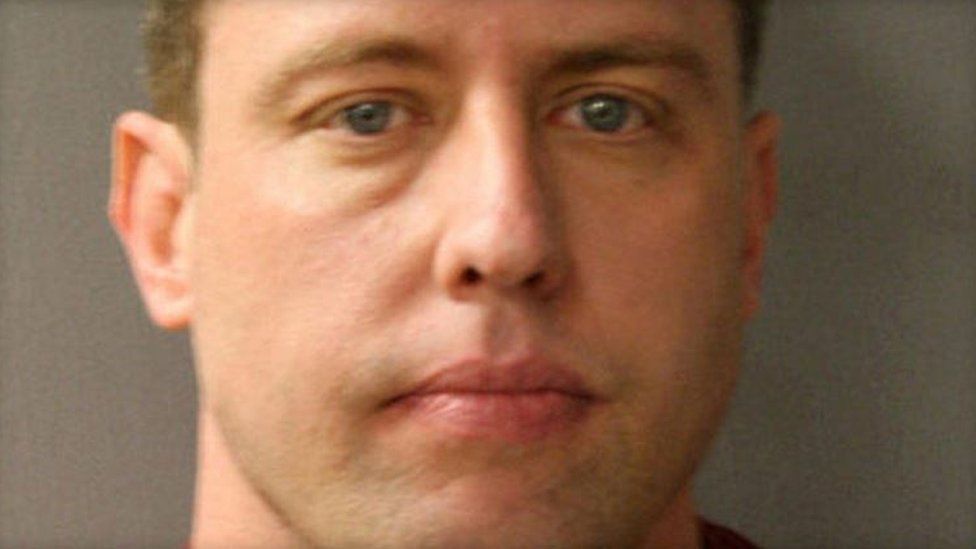 A white former Missouri policeman has been found not guilty of murdering a black man by shooting him five times after a car chase.
A judge acquitted Jason Stockley of first-degree murder over the 2011 shooting of 24-year-old Anthony Lamar Smith in the city of St Louis.
Mr Stockley, 36, was recorded during the pursuit saying: "Gonna kill this [expletive], don't you know it."
There were scuffles as protesters took to the streets after the verdict.
St Louis police later said more than people had been arrested. Four officers were injured during the protests.
Police fired tear gas and pepper spray after demonstrators threw rocks and water bottles.
The BBC is not responsible for the content of external sites.
Mr Smith was a new father and engaged to be married when he was killed on 20 December 2011.
Mr Stockley and his partner said they believed they had observed Mr Smith engaged in a drug deal outside a fried chicken restaurant near central St Louis.
Police dashcam video and surveillance footage shows Mr Smith reversed his car into the police vehicle twice during his attempt to drive off.
After a three-minute high-speed car chase, Mr Stockley told his partner, who was in the driver's seat, to ram Mr Smith's car.
Mr Stockley then ran to Mr Smith's window and fired five shots, hitting him each time.
The former police officer chose a bench trial rather than a jury.
St Louis Circuit Judge Timothy Wilson wrote in Friday's ruling: "This Court, in conscience, cannot say that the State has proven every element of murder beyond a reasonable doubt, or that the State has proven beyond a reasonable doubt that the defendant did not act in self-defence."
St Louis Circuit Attorney Kimberly Gardner said she was "disappointed" with the judge's decision.
Prosecutors also accused Mr Stockley of planting a gun in Mr Smith's car after shooting him.
The .38 calibre revolver recovered from the Buick had Mr Stockley's DNA on it, but not Mr Smith's.
Prosecutors questioned why Mr Stockley had rummaged through the boot of his police patrol car immediately after the shooting, before returning to Mr Smith's car.
Mr Stockley said he was retrieving some equipment to administer first aid.
Defence lawyers said Mr Stockley had acted "reasonably" in self-defence by killing a drug suspect he believed was reaching for a hidden handgun.
Only Mr Smith's DNA was traced on a plastic bag of heroin that was also found in the car.
The St Louis Metropolitan Police Department initially deemed the killing justifiable.
But the investigation continued and Mr Stockley was charged last year after prosecutors cited unspecified new evidence.
He quit the force in 2013 and now lives in Houston, Texas.
The Board of Police Commissioners settled a wrongful death lawsuit in 2013 with Mr Smith's family for $900,000 (£663,000).
Mr Smith's fiancée has urged the community to avoid violence.
"However it goes, I ask for peace," Christina Wilson told a news conference this week alongside the governor.
The case has inflamed racial tensions in St Louis, which has one of the highest murder rates in the US.
Rioting erupted in 2014 in nearby Ferguson, Missouri after the fatal police shooting of an unarmed black teenager, Michael Brown.