US boxer Mayweather criticised for defending Trump lewd comments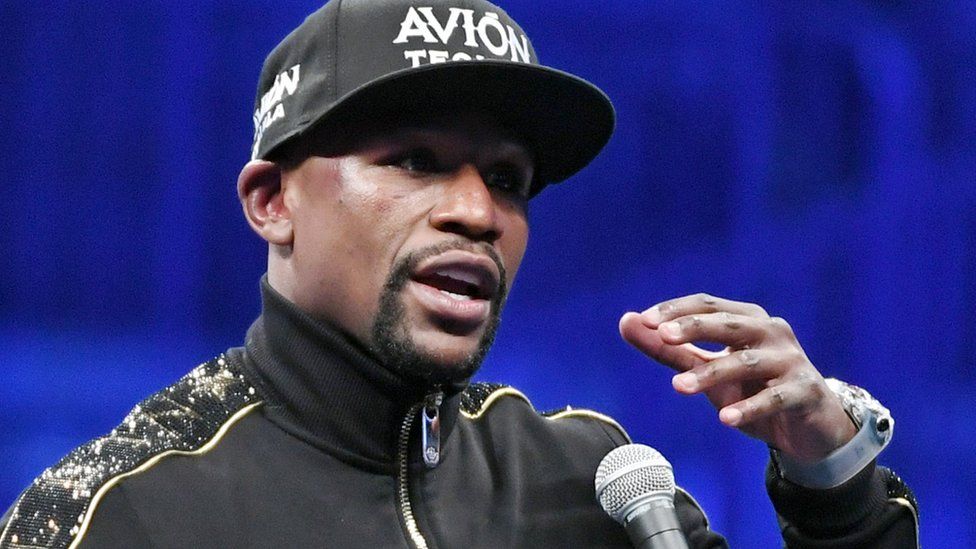 US boxer Floyd Mayweather has been criticised on social media for defending vulgar comments made by Donald Trump in 2005 about women.
"He speaks like a real man spoke," Mayweather, who attended President Trump's inauguration, told the Hollywood Unlocked website.
The comments sparked a backlash, with critics pointing to the boxer's convictions for domestic violence.
Mr Trump apologised after taped remarks about groping women emerged last year.
Using graphic language, Mr Trump is heard bragging about kissing women and grabbing them by the genitals, during a private conversation.
Mayweather told Hollywood Unlocked that Mr Trump "didn't do nothing".
"Real men speak like: 'Man, she had a fat ass. You see her ass? I had to squeeze her ass?" the boxer said. "So he's talking locker-room talk. Locker-room talk."
Many on social media referred to the boxer's history of attacking women.
You misspelled "Mayweather is a serial batterer of women with 7 assaults resulting in arrest/citations plus police calls without charges." https://t.co/upBnCO5JB3

— Shannon Watts (@shannonrwatts) September 14, 2017
Mayweather has previously expressed support for Mr Trump, who has described him as "one of the best all time boxing legends".
In the interview, the boxer also defended Mr Trump against allegations of support for racist groups.
"You never heard anything about Donald Trump being racist until he ran for president," Mayweather said.
Mr Trump has been criticised over his response to deadly clashes at a far-right rally, held by neo-Nazis and white supremacists, in Charlottesville, Virginia, last month.
Meanwhile a presenter for ESPN TV has apologised after calling Mr Trump a "white supremacist" on social media - an allegation described by the White House as "outrageous".