Shot Minnesota security guard 'lied about black gunman'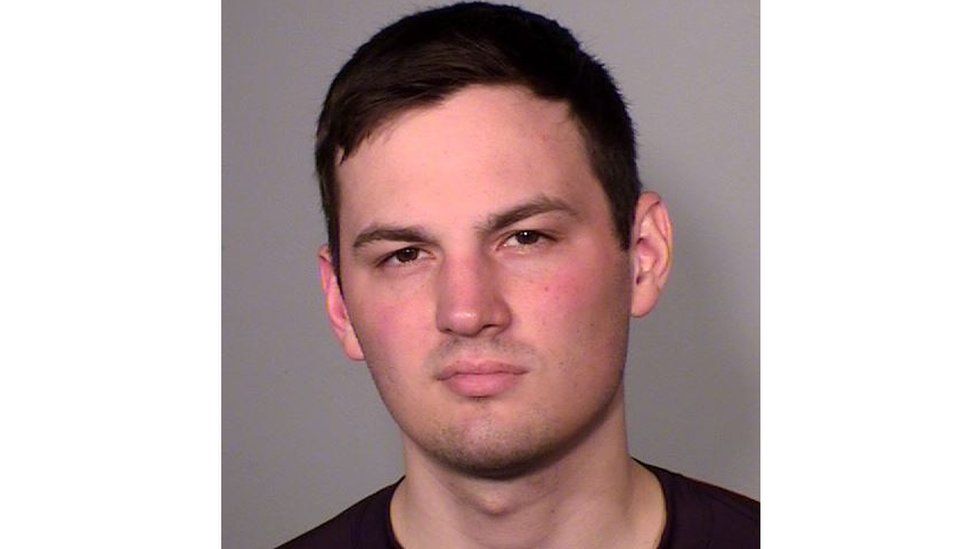 A US college campus security guard accidentally shot himself and made up a story about a non-existent black gunman to hide the blunder, police say.
Brent Ahlers, 25, told police in Minnesota he had been shot by an African-American with a "short Afro", according to emergency dispatch audio.
Tuesday night's bogus report spawned a manhunt involving 55 officers, four dogs and a state patrol aircraft.
About 1,800 students were on lockdown at St Catherine University in St Paul.
Mr Ahlers called 911 on Tuesday night to report he had been shot in the shoulder by a suspicious person he confronted in a wooded area on the campus.
Emergency dispatch audio said the at-large suspect was a black man wearing a navy blue sweatshirt and black jeans, according to the Minnesota Star Tribune.
Investigators said they were sceptical of Mr Ahlers' story, so decided not to publicise his description of the supposed gunman.
After the search failed to find any suspect, Mr Ahlers admitted to police he had accidentally shot himself, said officials.
Investigators say Mr Ahlers feared he would be sacked because the college did not arm its security personnel, and he had brought his own handgun to work.
Police spokesman Mike Ernster told local media: "He was nervous about losing his job due to the fact that he had his gun at work, and what had occurred, so he made up the story to cover what had happened."
Mr Ahlers is charged with falsely reporting a crime and is due in court on 31 October.
St Kate's President Becky Roloff said on Thursday that Mr Ahlers' statements about the race of the "suspect" were "deeply troubling and do not reflect our values".
St Catherine President ReBecca Roloff said Mr Ahlers was "no longer an employee of the university", where he had worked for 15 months.
Dianne Binns, president of the St Paul National Association for the Advancement of Colored People, said it was "nothing new" for a black man to be wrongly blamed in America.
"St Kate's said they're sorry," she said, "but they should come out and have more remorse and responsibility. That was their employee."