Vatican recalls envoy from US amid child porn inquiry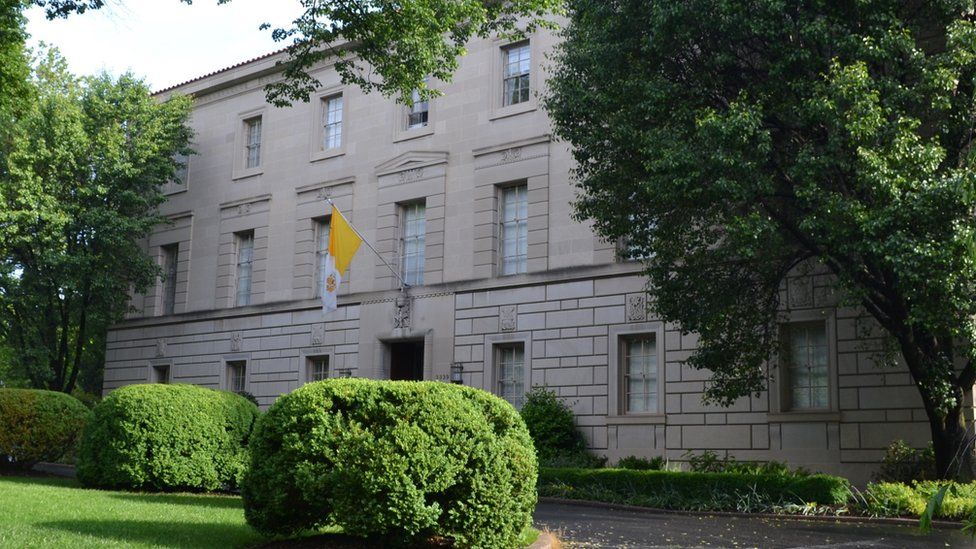 The Vatican has recalled a diplomat from Washington DC amid controversy over a child pornography investigation.
US officials told the Holy See in August a member of its diplomatic corps could have violated a law related to child pornography images.
Vatican prosecutors said on Friday they opened an investigation into the case and the priest in question had returned to Rome, according to a statement.
As a diplomat, the priest has immunity from prosecution in the US.
The priest, who authorities declined to identify, was a senior member of the Vatican embassy staff, the news agency reported, citing an official familiar with the case.
The Vatican said it was working with investigators internationally to collect evidence in the case.
The Catholic Church has faced a damaging series of repeated allegations of sex abuse by priests, and claims that these cases were covered up.
Pope Francis has vowed to crack down on rampant child sexual abuse claims, but has faced sharp criticism for his handling of the issue.
Cardinal George Pell, the third-ranking official in the Catholic Church, returned to his home country of Australia to face multiple charges of sexual assault in July.
The 76-year-old Vatican treasurer, who strongly denies the claims, said he travelled to Melbourne to "clear his name", according to a statement.
A former papal ambassador was recalled from Dominican Republic in 2013 for allegations of child sex abuse.
Jozef Wesolowski, an archbishop from Poland, was defrocked under canon law in 2014, but died before a ruling was reached in a criminal trial at the Holy See in Rome.
He never faced trial in the Dominican Republic.