St Louis police killing: Fresh protest breaks out in city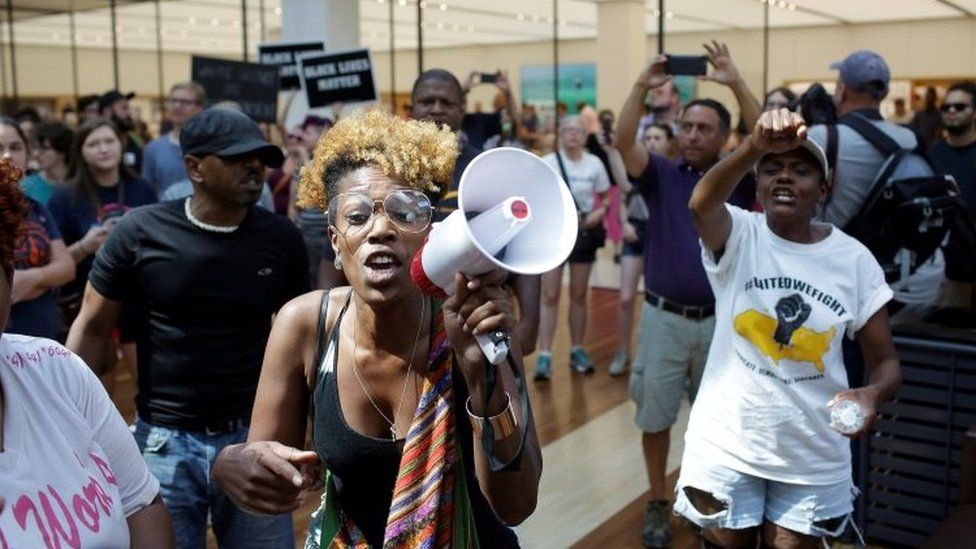 New protests have broken out in the US city of St Louis, where a white former policeman was found not guilty of murdering a black suspect in 2011.
Hundreds have marched in the Missouri city for a second day, chanting "Black lives matter!"
More than 33 protesters were arrested and 11 police officers were injured in Friday night's scuffles.
The defendant, Jason Stockley, 36, was cleared on Friday of murdering Anthony Lamar Smith, 24.
Mr Stockley, a serving police officer at the time, was recorded saying "Gonna kill this [expletive], don't you know it" while in a car chase after Mr Smith.
On Saturday evening, police were out in force as demonstrators rallied in St Louis.
Crowds marched through a shopping centre in the Delmar Loop suburb, blocking one major road.
Police said that after dark, "the unruly crowd became a mob" and some people caused damage to property including windows of local businesses and police cars.
Friday's disturbances began in the afternoon as protesters took to the streets after the court verdict.
The home of St Louis Mayor Lyda Krewson suffered considerable damage, police say, as protesters ignored orders to disperse.
By late evening police declared the gathering an "unlawful assembly".
Agitators are being warned that this is no longer a lawful assembly. If they do not disperse, they will be subject to arrest. #stlverdict

— St. Louis, MO Police (@SLMPD) September 16, 2017
As a result of the protests, a concert by the Irish rock band U2 due to take place in St Louis on Saturday night was cancelled.
The concert's organisers say they took the decision after police informed them that they were "not in a position to provide the standard protection for our audience".
Mr Smith was a new father and engaged to be married when he was killed on 20 December 2011.
Mr Stockley and his partner said they believed they had observed Mr Smith engaging in a drug deal outside a restaurant.
Police dashcam video and surveillance footage showed Mr Smith reversing his car into the police vehicle twice during his attempt to drive off.
After a three-minute high-speed chase, Mr Stockley told his partner, who was in the driver's seat, to ram Mr Smith's car.
Mr Stockley then ran to Mr Smith's window and fired five shots, hitting him each time.