British war bride and Canada groom die within hours of each other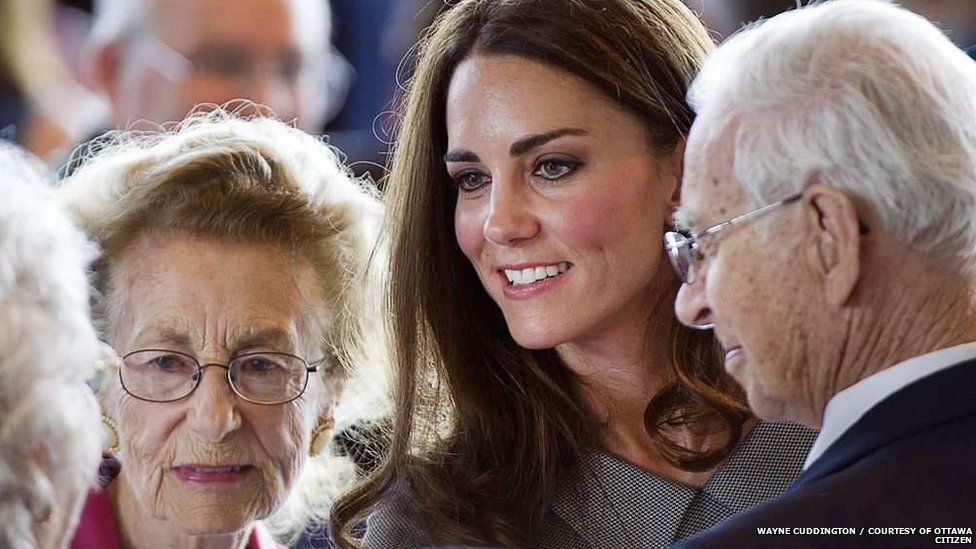 A British wartime bride and her Canadian veteran husband have died five hours apart - a month after celebrating their 75th wedding anniversary.
George and Jean Spear met in 1941 at a dance hall near London, while he was stationed in Britain during the Second World War.
The couple passed away in an Ottawa hospital on Friday after Mrs Spear, 94, was admitted for pneumonia.
She was made a Member of the Order of the British Empire in 2006.
Mrs Spear and her 95-year-old husband met the Duke and Duchess of Cambridge during their 2011 Royal Tour.
Mr Spear was admitted to Queensway Carleton Hospital on Wednesday, a day after his wife, when he fell into a deep sleep.
Hospital staff had tried to move Mr Spear to his wife's floor, but Mrs Spear died peacefully in her sleep on Friday at 04:30 local time before that could be arranged.
They leave behind two adult children, Heather and Ian.
"But this defies any sort of logic. We were overwhelmed by the suddenness of it."
The couple met during a dance while Mr Spear was serving as a sergeant major in the 1st Corps Field Survey Co, Royal Canadian Engineers.
"She looked down at my army boots and said, 'I don't know whether we can or not with those clodhoppers you're wearing," recalled Mr Spear to the Ottawa Citizen during the couple's 72nd wedding anniversary.
"That was our introduction. I said, 'Let's give it a try.' And we did. And that was it."
They were married not long after on 22 August, 1942 in Mrs Spear's hometown of Kingston upon Thames.
In 1944 she sailed for Canada because her husband, who was then stationed in Italy, was to be sent back home to train others.
"If he'd come to 'lower Slovovia' [sic] I would have been dying to get to 'lower Slovovia', as long as he was there," she said during a CBC interview with the couple in 2014.
When she arrived in Ottawa by train, she didn't know her husband would be meeting her because she thought he was still in Italy.
"It was snowing and the most amazing blizzard you'd ever seen all your life," she said.
"And this figure came running towards me… and he reached me and he wrapped his great coat around me.
"I can't talk about it now without reliving the absolute ecstasy of that moment."
In 2006, the Queen made her a Member of the Order of the British Empire for her work for other war brides.
She founded the first club for war brides in Canada.
She travelled to London for the ceremony with Mr Spear, and got to meet her hero, wartime singer Dame Vera Lynn.
Almost 50,000 British women moved to Canada at the end of the war because they married Canadian soldiers.
The couple were invited to a private reception with the Duke and Duchess of Cambridge in Ottawa during their 2011 Royal Tour.
Mr Spear showed the Duchess his sergeant's cap that held a black-and-white picture of Jean from before they were married, and the Duchess asked if he always kept the photo.
"All through the war and ever since," he replied.