'We survived Irma but we don't have money for food'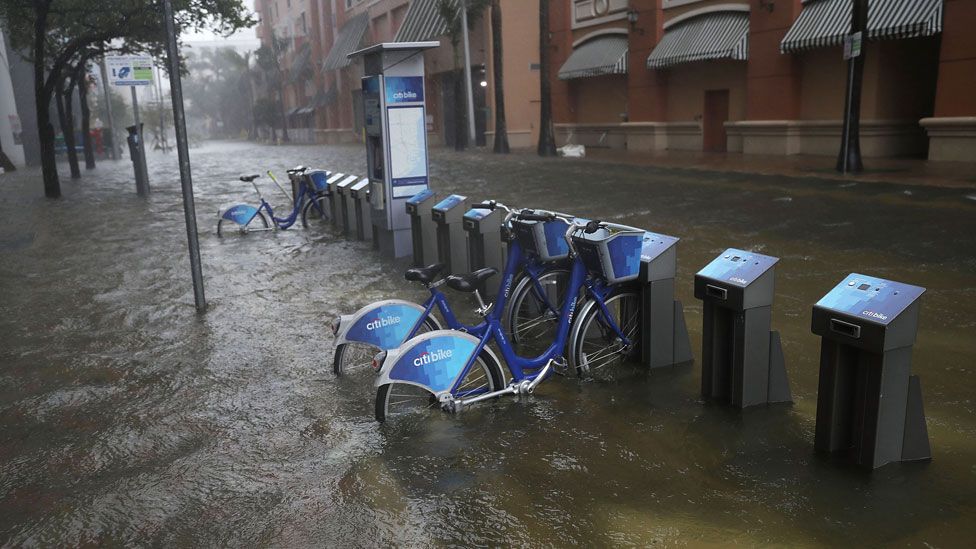 Miami dodged much of Irma's wrath but the aftermath of the storm has been devastating for the city's poor.
Tiffany Strong walks through the debris in the top floor of her house and sighs as she points to a stack of shoes in one of the rooms. Everything is drenched and neither she nor her two children can use them again.
This has been their home for 12 years in Miami, but they can't go back. Heavy rains flooded the property on Sunday as Hurricane Irma hit the city.
The winds caused the ceiling to collapse and now there is nothing but wet furniture and damaged walls everywhere.
"I don't even know where to begin. To come back to your house and see it like this… it is devastating," says Strong, 42, who evacuated with her two children days before the storm hit.
"We don't have nothing. We don't even have any food. [What] I had got bad when the power was out."
Strong's life was already hard before Irma destroyed her house. She is one of 9,000 residents of the historically black neighbourhood of Overtown, one of the lowest-income areas of Miami.
The average annual family income in this area is $15,280 (£11,300), while in Miami Dade County it is nearly $42,000, according to official figures.
Overtown is just two miles away from downtown Miami, where high-rise luxury buildings look out to the bay and millions of tourists visit every year.
But the landscape in this neighbourhood is very different, with ramshackle buildings, old cars and discount shops.
Days after Hurricane Irma hit Florida, more than 300,000 homes remained without electricity in Miami Dade County, a densely populated area with 2.7 million inhabitants.
Although Miami did not suffer the full wrath of a hurricane that devastated several Caribbean islands, there are communities like Overtown that are struggling to recover.
Most of its residents didn't have money to buy food and water before the storm and the few supplies they had are now gone.
It's the same situation in other vulnerable areas in metropolitan Miami, where more than 21% of the population lives in poverty, according a 2015 county report.
Franklin Wright, 38, walked to a public school near his home to pick up three boxes full of US Army food rations.
More than a dozen schools have opened their doors since Thursday to distribute 30,000 meals.
"We will continue this operation until we run out of food. It's the right thing to do," says Alberto Carvalho, superintendent of Miami-Dade public schools.
Franklin Wright says he feels a sense of relief after finding food for his family. He didn't experience the chaos last week, when hundreds of thousands of Miami locals queued in supermarkets to buy as many supplies as they could.
"I just bought the minimum at the stores around the corner," he says. "We were just hoping someone came here. We needed the help."
For families with children, schools closed for over a week not only represented a pause in their children's education, but also in their nutrition.
Many low-income parents count on free meals distributed in public schools to feed their children.
One of them is Eve McKenzie, 30, who struggled before and after the hurricane to feed her seven children who live with her in northwest Miami.
"We survived the hurricane but I don't have money to feed my kids. I can barely pay for my bills," she says while asking three of her children to lift the boxes they just claimed at the school.
In another school in the mostly Latino neighbourhood of Hialeah, to the northwest of the city, breakfast meals ran out after just three hours on Thursday.
"We are planning on serving hot meals within the next days. People are really needed here," says the school principal, Nelson Gonzalez.
Many Hispanics, a group which accounts for almost 68% of the total county population, face another concern besides electricity outages and home damages.
Almost half a million Miami residents are also undocumented immigrants, according to estimates by the Pew Research Center. Most are Hispanics.
Ernesto Garcia, who asked for his real name not to be revealed, is originally from Nicaragua and has lived in Miami for the past 12 years as an undocumented immigrant.
The construction worker didn't want to take risks in looking for assistance prior to the arrival of the storm.
"At first I thought of going to a shelter with my wife but then we got scared; there were rumours that they were taking people's fingerprints," he says.
After the storm, Garcia avoided driving through highways in the city because he was afraid the police might pull him over and ask for a licence he doesn't have.
For other families, the main difficulty now is to wait for the approval of federal money to fix their damaged homes.
One of Ana Araica's rooms in her house in Allapattah, northwest of the city, was damaged by the storm, even though the family was in an area considered as low risk.
"The winds were so strong the roof went off and now you can't live in that bedroom," she says.
Just days after Irma created a severe emergency in Miami, local authorities are taking actions to restore the power service and reopen schools for children.
But more residents like Tiffany Strong and Ana Araica it will be far longer before they can return to their normal lives.
Analia Llorente contributed to this story