Trump: Has staffing at the UN doubled since 2000?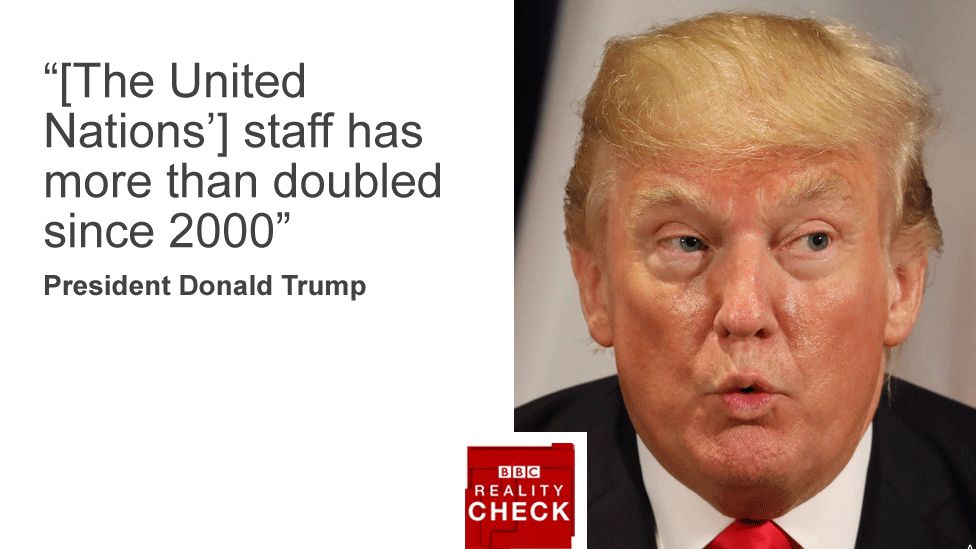 The claim: President Trump said in a speech at the United Nations on 18 September that since 2000, the UN's staff has more than doubled.
Reality Check verdict: That's correct. Overall UN staff numbers, not including peacekeepers, have indeed more than doubled since 2000. But the size of the secretariat - the UN's bureaucracy - has been decreasing since 2010.
On Monday, US President Donald Trump told a special meeting at the United Nations that the organisation should focus "more on people and less on bureaucracy".
He claimed that "the United Nations on a regular budget has increased by 140% and its staff has more than doubled since 2000".
He's right about staffing - and almost right about the budget.
In 2000, the UN employed 33,049 people. In December 2016, the latest figures provided by the UN, 76,234 people were employed by the organisation - that's more than double.
Those figures don't include people working on the UN's peacekeeping operations. Those operations do involve some civilian staff, but military personnel and police who work on peacekeeping are not UN employees- they're provided by member states and paid for by the UN.
The largest part of the total is the secretariat - the UN's bureaucracy. That's more than trebled in size since 2000 - from 13,164 to 39,651. But recently it's been getting smaller. The secretariat has shrunk every year since 2010.
Unicef, which provides aid to children, employed 13,093 people in December and has seen staff numbers rise by more than 75% since 2000.
Numbers in the office of the UN High Commissioner for Refugees have grown by nearly 160% from 4,142 to 10,763.
The biggest percentage change was the International Court of Justice - it has nearly four times as many staff as it did in 2000, although it still only employs 107 people.
Not everyone working for the UN will be a staff member.
For example, Unops, the UN's project management service, employs fewer staff than it did in 2000. But it hires people for particular jobs on consultancy contracts - and those people aren't counted.
In total, around 4,500 people are currently working for Unops - but only 843 of those are staff.
President Trump's claim that the UN budget has risen 140% is harder to assess - because there are several budgets for different things, which cover varying periods.
He'd be almost right about the "regular budget" of the UN. That covers normal day-to-day spending - things like humanitarian aid, the cost of running the meetings and providing public information about the UN's work.
The regular budget is agreed for two-year blocks - for 2000-01, it was a little over $2.5bn (£1.9bn at today's rates). For 2016-17, it's just over $5.4bn - a rise of roughly 119%, not adjusted for inflation. Not quite 140%, but still a significant increase in cash terms.
The regular budget isn't the whole story, though. It doesn't include the cost of peacekeeping operations. A sum of $2.7bn was set aside for those in the year 2000-01, compared with $6.8bn for 2017-18 - an increase of 148% in cash terms.
There are other costs at the UN, which fall outside both of those budgets.
There's the cost of running the UN's special tribunals when they're in session - most recently examining alleged war crimes and genocide in Rwanda and the former Yugoslavia.
And the UN spent an extra $1.9bn outside the regular budget on refurbishing its headquarters between 2002 and 2013.
Related Internet Links
The BBC is not responsible for the content of external sites.