Health groups condemn new Republican Obamacare repeal plan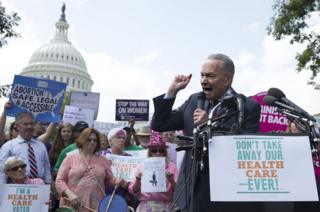 Sixteen patient and provider groups have opposed the latest healthcare plan put forward by Republican senators as a replacement for Obamacare.
In a joint statement, they said the proposal would endanger access to care for millions of Americans.
For years, Republicans have pushed to abolish President Barack Obama's law, which expanded health insurance but failed to curb rising medical costs.
The bill will need 50 votes to pass the Senate before going to the House.
It would then go to the White House for the president's signature.
Despite their longstanding opposition to Obamacare, Republicans have so far been unable to agree on a replacement.
Since taking control of the White House, several attempts to rally around a new plan have collapsed.
Now they have only until the end of the month to pass this bill.
What do Republicans propose?
The new bill, which was drafted by senators Lindsey Graham and Bill Cassidy, would give states money in block grants to run their own healthcare programmes.
It would also allow states to forgo some of the key mandates of Obamacare, like caps on premiums paid by people with chronic illnesses.
Senator Graham said on Tuesday his bill was the party's last chance to "stop the march to socialism".
"I really believe we're going to get 50 Republican votes," he told reporters after a meeting with colleagues "I've never felt better about where we're at."
But critics fear that when left to the states, the money going into the Medicaid programme for people on low incomes would diminish.
Several Republican governors have criticised how rushed the process is and on Tuesday called on their colleagues to abandon this bill in favour of a slower, cross-party approach.
Will they succeed, finally, in replacing Obamacare?
Anthony Zurcher, BBC News, Washington
Just a month ago, the door seemed to slam shut on the seven-year pledge by conservatives to uproot Barack Obama's most significant legislative achievement. In the words of baseball manager Yogi Berra, however, "it ain't over till it's over".
It's true that Democrats continue to be united in opposition to repeal efforts. Yes, health industry advocates are up in arms. Some governors, on the left and the right, are concerned.
And many of the objections of the three holdout Republicans who sank the most recent proposal - cuts to Medicaid funding for the poor, the lack of guaranteed coverage for pre-existing medical conditions and the decision to forgo standard legislative procedure in drafting the bill - are still present in the new iteration.
Add in that there are other Republican senators - moderates and hard-liners - voicing concern, and chances of success appear slim.
Slim is better than none, however. For Republican politicians who are looking apprehensively at the mid-term elections next year and the possible wrath of primary voters who thought Obamacare repeal was a fait accompli with their party in control, any bill - even if they think it has flaws - is better than no bill at all.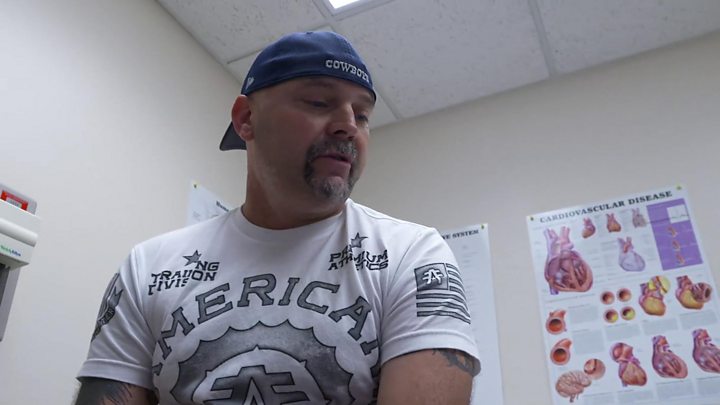 Why are health groups opposed?
"This bill would limit funding for the Medicaid programme, roll back important essential health benefit protections, and potentially open the door to annual and lifetime caps on coverage, endangering access to critical care for millions of Americans," the groups wrote in a statement posted on the American Heart Association website.
"Our organisations urge senators to oppose this legislation."
Republican governors John Kasich, Charlie Baker and Brian Sandoval were among the signatories to a letter calling on senators to ditch the bill.
"Only open, bipartisan approaches can achieve true, lasting reforms," they wrote.
Democratic Senate leader Chuck Schumer said "Graham-Cassidy" would "bring an end to Medicaid as we know it" and millions would lose health coverage.
"Trumpcare is a sham and they are drafting it in the dark of night," he said.