FBI wiretapped Trump campaign chief Paul Manafort - reports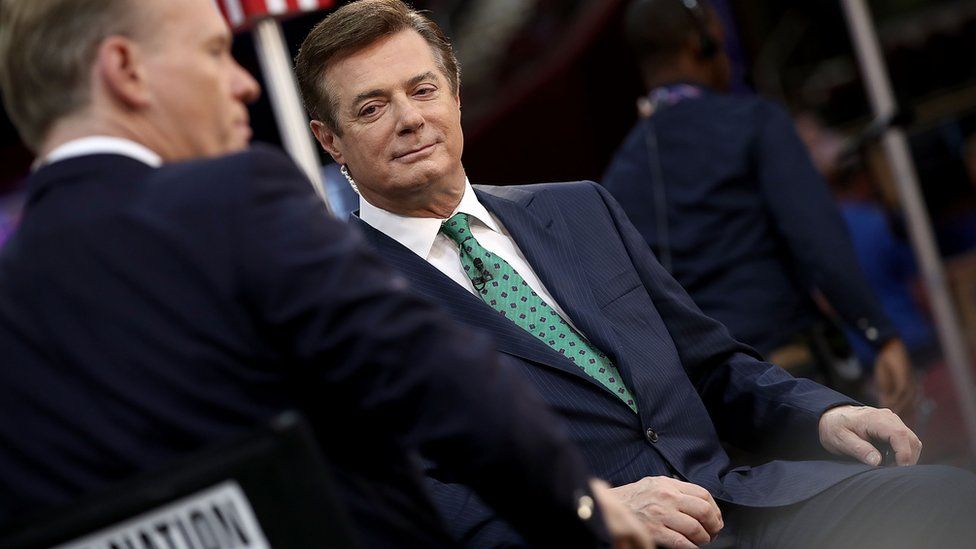 Donald Trump's campaign chairman, Paul Manafort, was wiretapped by the FBI due to concerns about his links with Moscow, according to US media.
The reported surveillance, granted under a court warrant, occurred both before and after the 2016 election.
It is not known if the wiretap, which began in 2014, included conversations with President Trump. Mr Manafort is said to be facing an indictment.
His spokesman called on the Justice Department to investigate the leak.
"If true, it is a felony to reveal the existence of a Fisa warrant, regardless of the fact that no charges ever emerged," said Jason Maloni, referring to the Foreign Intelligence Surveillance Act (Fisa) warrants.
"The US Department of Justice's Inspector General should immediately conduct an investigation into these leaks and to examine the motivations behind a previous Administration's effort to surveil a political opponent."
He urged the Justice Department to also release "any intercepts" involving Mr Manafort.
The former political consultant, who had worked for Ukraine's former ruling party, was chairman of the Trump campaign from June to August 2016. He has not commented on the CNN report, which has been confirmed by CBS News.
FBI special counsel Robert Mueller is leading an investigation into alleged attempts by Russia to influence the 2016 election.
However, the Fisa warrants were granted before his investigation started, and were first authorised as part of an investigation into Washington consulting firms working for Ukraine, CNN reported.
After the 2014 warrant ended, it was renewed again until earlier this year, in order to allow the FBI to investigate ties between Trump campaign associates and suspected Russian operatives.
Pressure mounting on Manafort
Analysis by Anthony Zurcher, BBC News, Washington
Back in March Donald Trump was widely derided for tweeting that President Barack Obama "had my 'wires tapped' in Trump Tower just before the victory". Now some Republicans are crowing that the latest revelations vindicate Mr Trump's accusations.
That's not exactly the case. Paul Manafort was the target of the surveillance, not Mr Trump - although the former Trump campaign chairman has an apartment in Trump Tower. And if Mr Trump spoke with Mr Manafort, then it's entirely possible those conversations could have been recorded.
The pressure is mounting on Mr Manafort now. He was being monitored by the FBI. Robert Mueller's team executed an unannounced search of his property and confiscated files earlier this year. He has reportedly been warned that he is facing criminal charges.
It's a standard practice of law enforcement to put the screws on the first round of targets in the hope of gaining their assistance in later prosecutions. Given his top position in the Trump campaign for months, Mr Manafort could be the key to Mr Mueller's investigations.
If the president and his former aide ever spoke about anything incriminating, the vindication his supporters are feeling today will seem cold comfort.
Terrible! Just found out that Obama had my "wires tapped" in Trump Tower just before the victory. Nothing found. This is McCarthyism!

— Donald J. Trump (@realDonaldTrump) March 4, 2017
Communications collected with the Manafort wiretaps sparked concerns among investigators that he had encouraged the Russians to help with the election campaign, CNN cited three sources as saying - although two of the sources said the evidence had not been conclusive.
The FBI, as well as several congressional committees, are investigating whether Russia attempted to interfere in the US election in order to help Donald Trump.
According to a Reuters report, President Trump is using re-election campaign contributions and money donated to the Republican National Committee to pay for his legal team in the ongoing Russian investigation.
The US Federal Election Commission allows private campaign funds to be used for legal bills that stem from being a candidate or elected official.
But Mr Trump would be the first US president in the modern campaign finance era to use campaign money to pay for legal defence in a criminal probe, according to Reuters.
FBI agents raided Mr Manafort's suburban Washington DC home on 26 July, according to the New York Times.
Agents had picked the lock to his Virginia home as Mr Manafort lay in bed, and were looking for evidence that he had set up off-shore bank accounts, the newspaper reported.