Jimmy Kimmel attacks Bill Cassidy over healthcare bill
Comedian Jimmy Kimmel has made a scathing attack on a Republican senator behind a new healthcare plan put forward to replace Obamacare.
The late-night TV host - whose son has a congenital heart defect - accused Senator Bill Cassidy of lying "right to my face" in an earlier interview.
Republicans want to abolish President Obama's law, which expanded insurance but did not curb rising medical costs.
Mr Cassidy said the host "does not understand" the coverage in his bill.
Kimmel became a prominent voice in the healthcare reform debate after delivering a heartfelt TV monologue in May describing his newborn son's near-fatal condition.
He said his son Billy would have died if not for the star's expensive healthcare plan, which most Americans are unable to afford.
Mr Cassidy - himself a doctor - pledged that any new healthcare act must "pass the Jimmy Kimmel test" by granting insurance coverage to any child with a pre-existing condition in their first year of life, and to families, regardless of their ability to pay.
But on his programme on Tuesday night after the Republican plan was unveiled, Mr Kimmel said: "This new bill actually does pass the Jimmy Kimmel test, but a different Jimmy Kimmel test.
"With this one, your child with a pre-existing condition will get the care he needs - if, and only if, his father is Jimmy Kimmel. Otherwise, you might be screwed."
He ended his monologue saying Mr Cassidy should "stop using my name", adding "there's a new Jimmy Kimmel test for you, and its called the lie detector test. You're welcome to stop by the studio and take it".
Mr Cassidy denied Mr Kimmel's characterisation of his bill, saying "what is being circulated is by those that wish to preserve Obamacare, and they're doing everything they can to discredit the alternative".
Despite their longstanding opposition to Obamacare, Republicans have so far been unable to agree on a replacement.
Since taking control of the White House, several attempts to rally around a new plan have collapsed.
Now they have only until the end of the month to pass this latest bill.
Under the plan drafted by Mr Cassidy and Senator Lindsey Graham, state governors would get federal money in block grants to run their own healthcare programmes.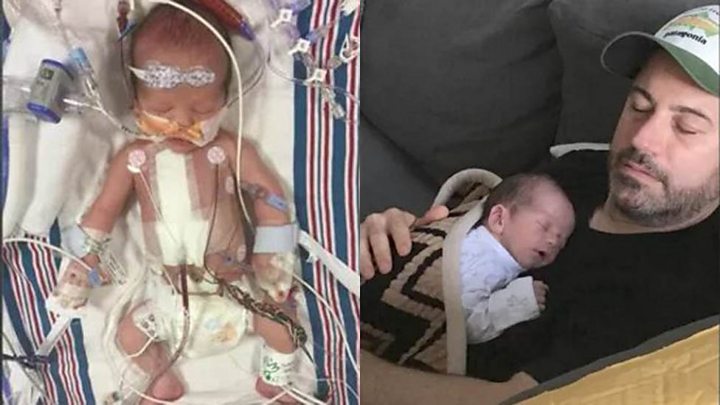 It would also allow states to forgo some of the key mandates of Obamacare, like caps on premiums paid by people with chronic illnesses.
Senator Graham said on Tuesday the bill was the party's last chance to "stop the march to socialism".
But critics fear that when left to the states, the money going into the Medicaid programme for people on low incomes would diminish.
Several Republican governors have criticised how rushed the process is and on Tuesday called on lawmakers to abandon this bill in favour of a slower, cross-party approach.
Former President Barack Obama expressed exasperation on Wednesday with the latest attempt to repeal his signature legislative accomplishment.
Speaking in New York at an event organised by the Bill and Melinda Gates Foundation, he said the Republican bill would deprive vulnerable Americans of coverage and further increase costs.
"It's certainly frustrating to have to mobilise every couple of months to keep our leaders from inflicting real human suffering on our constituents," he added.