Is the US solar industry about to tear itself apart?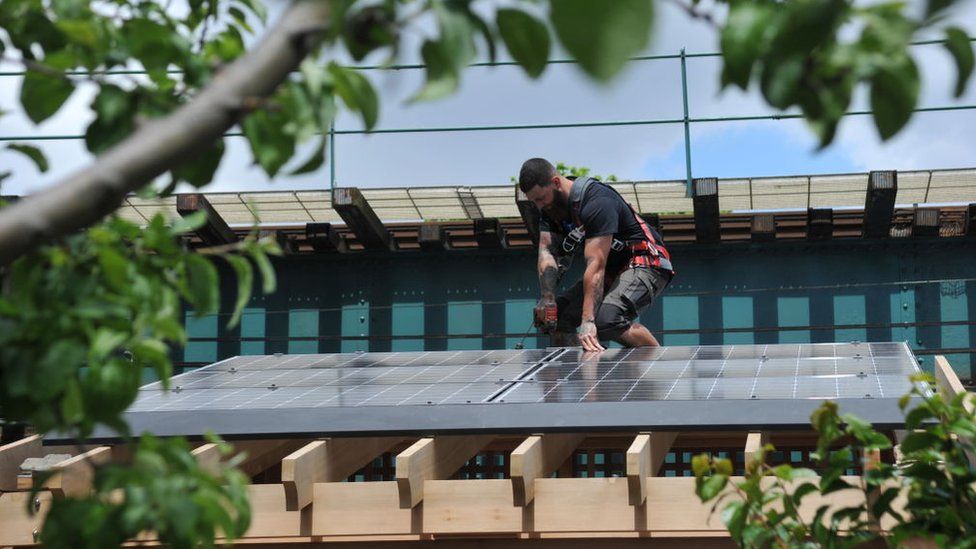 The US solar industry has seen dramatic growth in the past few years, but a request for a rare trade action has led to a fierce fight over the future of the industry - and one that wouldn't exist without the presidency of Donald Trump.
Phil Brodhagen runs a solar installation company in Colorado Springs, and his customers - local homeowners and businesses in a military-friendly town - love American-made products.
Until they see the price.
"They want to go solar, but they do have a limit on how much they can spend." he says. "They'd love an American product, but if they can't afford it, they'll either not get a system at all, or go for the cheaper one."
Brodhagen is one of hundreds of business owners across the US paying very close attention to a case in front of the US International Trade Commission. And he's worried about the outcome.
"It will hurt this industry," he says. "It's going to be me laying off people as well as everyone else."
On Friday, the commission is expected to rule on whether imported solar products have seriously injured US solar product manufacturers, enough to impose higher tariffs on imports worldwide.
The petition was brought by two solar manufacturers who are based in the US, but owned by overseas companies.
Suniva and SolarWorld have argued their financial troubles - as well as a series of other US solar manufacturer bankruptcies - are due to a massive oversupply of solar cells and panels imported from overseas, primarily from Chinese companies.
They point to dozens of US companies like theirs that have gone out of business since 2012.
"Quite simply, we need the commission's help to save solar manufacturing in the United States," Juergen Stein, chief executive of SolarWorld Americans told the commission in August.
But SolarWorld and Suniva find themselves fiercely opposed by much of the solar industry in the US, including the largest trade group, the Solar Energy Industries Association (SEIA).
SEIA has argued increasing the prices of panels through tariffs will set back the solar industry for years, hurting companies that buy and install solar panels, or make solar-related products. The trade group estimates a loss of as many as 88,000 jobs, or a third of the current solar work force, if Suniva and SolarWorld's requests come to pass.
The group accuses the two companies of using the rare trade action to save themselves, at the expense of the rest of the industry.
What's at stake? For both sides, the immediate future of the fast-growing solar industry in America.
Bret Sowers, a utility-scale solar farm developer, calls the trade case an "eminent threat" to his business. Projects like his are reliant on how low a price per watt cost they can offer utility firms. Their competition is not just other solar firms, but coal and wind, natural gas and nuclear energy.
New solar capacity doubled between 2015 and 2016 and such large-scale projects drove more than half the growth.
"We have close to $2bn in investment we've planned across the southeast," he says, based on prices continuing their downward trend. If he can't deliver the prices he expected, those solar farms won't be built.
"That's hundreds of construction jobs gone," he says, and layoffs at his company.
Sowers is specifically frustrated because US plants at SolarWorld and Suniva were not building the larger, 72-cell panels at the kind of scale his projects need.
"The two dots don't really connect. They were making cars and I'm buying trucks - and now they're claiming the trucks are hurting the cars."
James Marlow, who runs a similar Georgia company, is frustrated with the petition, even though he just finished a project with Suniva panels.
"They used to be the home town team," he says of the firm, originally spun out from Georgia Tech and headquartered in the state.
In 2015, in an effort to expand, a Hong Kong-based energy firm purchased more than half the company, but Suniva filed for bankruptcy earlier this year, and weeks later, brought the trade petition.
SolarWorld, whose parent company also filed for insolvency in Germany, joined the petition shortly thereafter.
Marlow says he supports bringing back manufacturing to America, but thinks that means a whole set of policies to deal with what's a "drastically larger" issue.
"It's why most of our clothes are made in Asia and why this cell phone I'm talking to you on made in Asia - it's not just one action."
He attended the 15 August arguments in front of the trade commission on the case and said interest was intense. There were two overflow rooms for people to listen. An official told him they hadn't seen that many people come to hear a case since NAFTA.
If the trade commission finds in favour of the manufacturers, it can make recommendations, but it is up to the president to decide.
And President Trump is eager to impose tariffs, especially in an industry in which he could be seen to be tough on Chinese manufacturing. He reportedly has said "I want someone to bring me some tariffs" because "China is laughing at us".
Once the trade commission makes its initial ruling, it will have several more weeks to make a recommendation to Trump. The president then can decide to take the recommendation or not.
Solarworld had earlier successes with two requests for increased tariffs on Chinese manufacturers for similar unfair trade practice accusations.
But that wasn't enough, says Tim Brightbill, a lawyer representing SolarWorld, because Chinese firms shifted production to other countries to get around the tariffs.
He also claims the potential job loss numbers are overblown.
"These predictions were made before when SolarWorld brought actions against China, that somehow jobs would be lost. But the opposite happened," Brightbill says.
The situation is especially odd considering both SolarWorld and Suniva are owned by parent companies that could be harmed by the tariff.
Brightbill says "it just shows that SolarWorld is committed to manufacturing here," even if it involves putting a tariff on a German-produced panel.
Both sides see the dispute as a turning point for the industry - and both think the president should be on their side.
"If the Trump administration wants to create jobs," James Marlow says. "They should join with the solar industry."
The question for President Trump will be - which part?