Ex-NFL star Aaron Hernandez had 'most severe' brain disease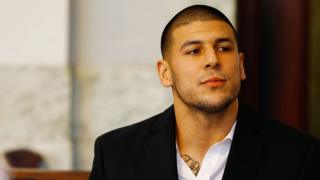 An ex-NFL footballer who killed himself in April after he was acquitted in a double murder trial had a "severe case" of a degenerative brain disease.
Aaron Hernandez, 27, suffered from chronic traumatic encephalopathy (CTE), a condition associated with head injury, his family lawyer said.
He was found hanging in a Massachusetts prison, where he was serving a life sentence for another murder.
Hernandez's family had asked for his brain to be tested for CTE.
His attorney, Jose Baez, made the CTE revelation as he sued Hernandez's former team, the New England Patriots, and the NFL on behalf of the athlete's young daughter.
Researchers at Boston University, which studies the progressive degenerative disease that is found in people with a history of repetitive head trauma, found Hernandez's brain to be at "an advanced stage" of CTE, according to Mr Baez.
"It was the most severe case they had ever seen," he told reporters in Boston on Thursday.
Deep impact
CTE is a type of dementia associated with repeated blows to the head and recurrent episodes of concussion.
Common symptoms include impulse control problems, aggression, depression and paranoia, the US-based Concussion Legacy Foundation says.
The disease's link to American football is well-known - but awareness of its impact on rugby players, footballers and action sports stars is only just emerging.
CTE, which can only be diagnosed after death, has been found in the brains of dozens of former American football players.
Hernandez's death came five days after he was acquitted in a double murder trial.
The former tight end was reportedly found with a Bible verse scrawled on his forehead after he took his own life.
He marked the gospel passage "John 3:16" in red ink on his forehead, according to local media reports.
It refers to the phrase: "For God so loved the world, that he gave his only begotten Son, that whosoever believeth in him should not perish, but have everlasting life."
The rise and fall of Aaron Hernandez
June 2010: The tight end is drafted into the NFL from University of Florida and signs a four-year contract with the New England Patriots
January 2012: Hernandez sets a career best with 138 receiving yards in a victory over the Buffalo Bills
July 2012: Daniel de Abreu and Safiro Furtado are shot dead in Boston
August 2012: Hernandez signs a five-year, $40m contract with the Patriots
February 2013: Alexander Bradley files a lawsuit claiming Hernandez shot him in the face after a dispute at a Florida strip club
June 2013: Odin Lloyd, a semi-professional football player who dated the sister of Hernandez's fiancee, is found dead near Hernandez's home. He is arrested for the murder and dropped by the Patriots
May 2014: Hernandez is charged with first-degree murder in connection with Mr de Abreu and Mr Furtado's killings
April 2015: He is convicted of killing Lloyd and sentenced to life in prison
April 2017: The former footballer is acquitted of the 2012 killings of Mr de Abreu and Mr Furtado. But five days later, he kills himself
Hernandez was cleared in the fatal shooting of Daniel de Abreu and Safiro Furtado outside a Boston nightclub in 2012.
But he was still serving a prison sentence for a separate killing before his death.
He had been found guilty in April 2015 of the first-degree murder of his friend, another American footballer, the semi-professional Odin Lloyd, in 2013.
Lloyd's body was found with six bullet wounds less than a mile from Hernandez's home.
Within hours of his arrest for the 2013 shooting, the Patriots sacked Hernandez, considered one of the top tight ends playing the game.
Hernandez was given a life sentence without parole.