Who will Canada's New Democrats pick to take on Trudeau?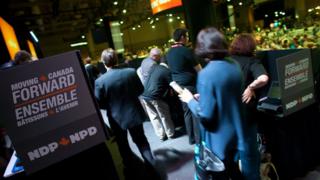 Canada's New Democratic Party was outflanked on the left by the Liberals in the last federal election. Who will the party faithful elect to take on Justin Trudeau in 2019?
In the early days of the 2015 federal election campaign, the left-wing New Democrats were riding high.
The progressive party had held seats in Canada's Parliament for decades. They had never taken power but, after gaining a historic number of seats in the previous election, the possibility suddenly felt within reach.
It wasn't.
The party shed 59 seats - many to the Liberals - and lost almost a million votes.
Within six months, the party faithful turfed Tom Mulcair in a leadership contest.
The social democratic party's "been in neutral" in the two years since it had its hopes shattered, says Kathleen Monk, a former director of strategic communications for the party.
"There's been a lot of angst."
New Democrats will be electing a leader this month to take on the challenge of rebuilding and rebranding the party.
There are four candidates in the running, with first ballot results being unveiled on 1 October.
Whoever wins the contest will in the next general election face Justin Trudeau, who has become a poster boy for progressives around the world and who outmanoeuvred the NDP and wooed away their voters in 2015.
But Trudeau's progressive appeal to NDP voters - on the environment, indigenous issues, electoral reform - is starting to look tattered halfway into his mandate, says University of Saskatchewan political scientist Charles Smith.
"A lot of the promises that he made to the left have not in any way been successful," Smith says.
"That's something he's going to have to own - and these leadership candidates are aware of that."
The party, which has long grappled between choosing principles over taking power, will also have to decide whether it will continue to follow the centrist path paved by Jack Layton.
The former NDP leader led the party to official opposition status for the first time in 2011, only to die of cancer a few weeks later.
Posthumously, his political pragmatism still holds sway over the party.
"There are a lot of people who expect the party to be competitive and not fall back to its traditional (base of support)," says Smith.
"They're looking for a candidate who can win."
The presumptive front runner is Jagmeet Singh, a turban-wearing Sikh with a charisma that rivals Trudeau's.
A sharp dresser, he's been profiled in GQ magazine and, if elected, would be the first person of colour to lead a major federal party.
Singh is leading the four candidates in fundraising and got a bump in profile when a video of his response to an angry heckler at a campaign rally went viral.
"Singh represents the multiculturalism, the openness that Trudeau likes to talk about. Singh walks the walk and talks the talks," says Smith.
Still, his candidacy is facing resistance in a province seen as central to the NDP's path to power.
Quebec is in the midst of a long debate over state religious neutrality and legislation that would ban face coverings, such as niqabs, for people who are using or employed to provide public services.
Montreal NDP MP Pierre Nantel recently said of Singh's turban and kirpan: "There are incompatibilities with what Quebeckers want to see in their public leaders."
Another Quebec political leader warned about the rise of the "religious left", which she felt Singh exemplified.
But Monk notes that Singh sold an estimated 1,500 new party memberships in the province.
"You can't dismiss that he's going to have a challenge as the first Sikh, the first turbaned, bearded man running for national office as a federal leader," says Monk.
"But if somebody is going to overcome those challenges it's going to be someone like Jagmeet, who has that kind of electric charm, who can speak from the heart about the realities of a racialised person growing up in Canada."
Challenging Singh is veteran federal politician Charlie Angus, a former punk rocker from Northern Ontario with a working class background.
Angus is the candidate most obviously seeking to build on Layton's legacy. He's a strong performer in the House of Commons and a tireless advocate on indigenous issues with a left-wing credibility that resonates with party stalwarts.
"He's going to have the long-term membership of the party," says Monk. "But it will be interesting to see whether he'll be able to penetrate into the large urban centres."
The race has also been shaped by the popularity of politicians like Bernie Sanders in the US and of Jeremy Corbyn in the UK who have rejected moving towards the centre.
"I think (New Democrats) feel emboldened in that they don't have to 'out Liberal' the Liberals," Smith says.
Niki Ashton, a self-described "progressive feminist" with socialist principles, has a message most in line with the Sanders and Corbyn brand of left-wing politics.
The Manitoba MP has made overtures to young voters grappling with high tuition costs, precarious work and unaffordable housing.
The fourth candidate, Guy Caron, has brought forward detailed policies on economic and labour issues and has seen late campaign momentum.
The Quebec MP is seen as someone who can help maintain valuable support in the province, garnering him support from union leaders and some of the NDP old guard as someone who will do the grunt work necessary to rebuild the party.
Neither Monk nor Smith sees an obvious heir apparent for the NDP in the four candidates and say if no one walks away with over 50% on the first ballot it's anyone's race to win.
If no candidate is the clear winner on Sunday, there are two more rounds of balloting scheduled for 8 October and 15 October.