Trump: NFL anthem kneeling protesters 'disgraceful'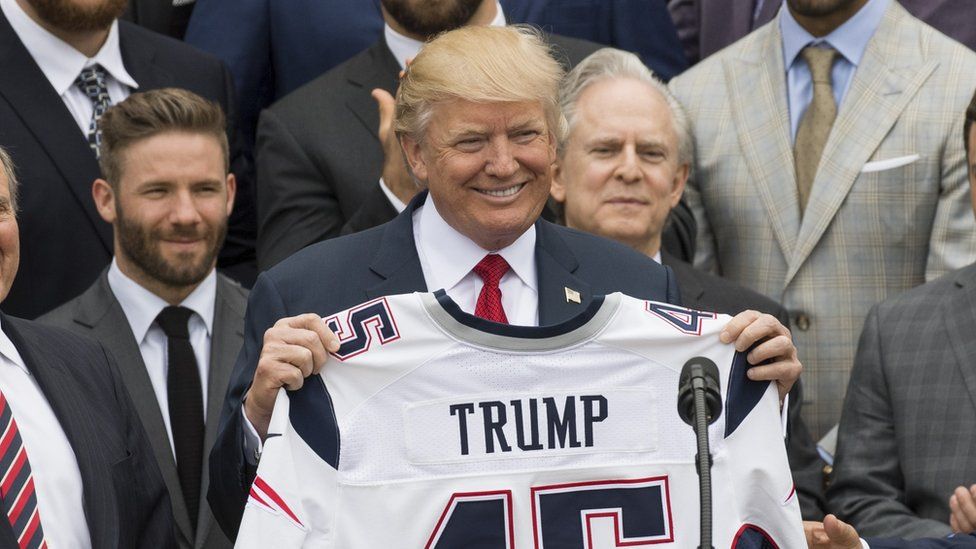 US President Donald Trump has stepped up his criticism of NFL players kneeling during the national anthem, calling them "disgraceful".
Speaking at a White House press conference with Spanish Prime Minister Mariano Rajoy, Mr Trump said the NFL should ban players from kneeling.
He denied he had been preoccupied with the issue at the expense of the hurricane disaster in Puerto Rico.
"It's called respect for our country," he told reporters.
A number of sports players and teams demonstrated during the US national anthem over the weekend.
The protests involved players kneeling, linking arms or staying in the locker room during the Star-Spangled Banner.
Mr Trump said on Tuesday he was "ashamed" of the protests.
He said he recently visited maimed US veterans at Walter Reed Army Medical Center in the Washington DC suburbs.
"They were fighting for our country," he said, "they were fighting for our flag, they were fighting for our national anthem.
"For people to disrespect that by kneeling during the playing of our national anthem, I think, is disgraceful."
The president first said on Friday at a rally in Alabama that players who fail to stand during the national anthem should be fired or suspended.
His criticism seemed to galvanise players, teams and the league to assert what they saw as a right to freely express political convictions.
National Football League (NFL) player Colin Kaepernick first sat down during the anthem in preseason in 2016.
"I am not going to stand up to show pride in a flag for a country that oppresses black people and people of colour," he said.
Kaepernick continued to demonstrate amid fierce criticism; this season he remains a free agent.
Some commentators suggest he may have been "blackballed" from the sport as clubs fear a backlash for signing him.
President Trump had faced widespread criticism for tweeting repeatedly about the NFL, amid accusations that federal aid has been slow to reach Puerto Rico and the US Virgin Islands.